Nanoil Almond Oil
Product Name:
Nanoil Almond Oil
Rating:
Nanoil Sweet Almond Oil
Almond trees are grown in regions of Mediterranean Sea; currently, most plantations are found in France and Spain. Highly-rated beauty almond oil is extracted from the seeds of this very tree. If you go for sweet almond oil, choose top-quality one. Only then you're going to get desired effect.
DESCRIPTION
Nanoil Almond Oil is a natural beauty oil, gentle and  even sensitive baby's skin-friendly. A perfect oil for face and hair care, cold-pressed, unrefined, 100% organic.
Each drop holds essence of what's best in sweet almonds – that is the reason for Nanoil Almond Oil getting so popular among other similar oils.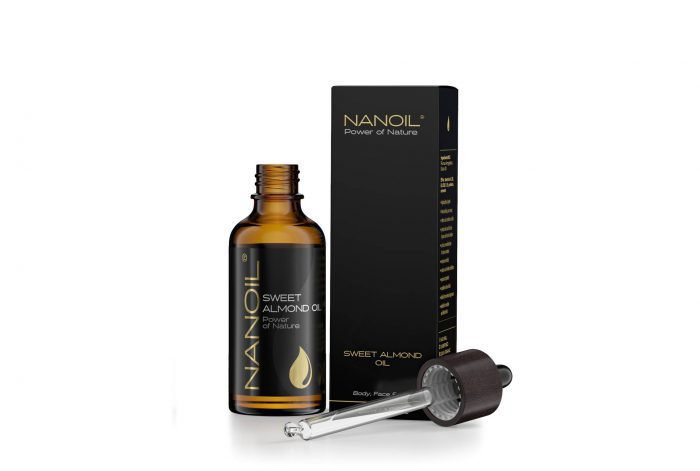 In comparison to other nuts, almonds are highest in vitamin E which has antiaging effect and sweep aways free radicals. That's not all, though.
Sweet almond oil has other vitamins (incl. A and D) and minerals, and most of all healthy fatty acids omega-9 (even 55%), omega-6, omega-3.
Almond oil is a universal natural beauty oil to use on hair, body and face. Incredible anti-stretch marks treatment, safe for moms-to-be and infants' skin. It boosts moisture level, deeply nourishes, rejuvenates and promotes repair process. This oil holds the Ecocert mark, that is recognized certification given to top-quality natural products.
PURPOSE
Nanoil Almond Oil works well both on hair and delicate, dry and normal skin types. It is a product for all the family – heaven for all who look for mild natural products, moisture boost and skin repair.
DIRECTIONS
Applied to hair, body, face and nails, this oil works wonders. Pour a bit to your moisturizer or use as nighttime serum under rich nourishing cream. Nanoil Almond Oil equals the finest-quality so it's going to upgrade every beauty treatment and therapy, scrubs, face masks, moisturizers, body lotions, etc.
ADVANTAGES
Ecocert mark assigned to finest-quality natural beauty products
one of the most popular gentle beauty oils
ideal to treat hair
beauty oil for all the family
works for all skin types
highest reviewed oil
good value for money
100% natural, holds out long, extremely effective
unrefined, cold-pressed, organic
all-purpose, ideal to enhance hair, face, body and nails
gentle, cut out for sensitive skin
nurtures even baby's skin
cures skin conditions, improves health of face skin and scalp
DISADVANTAGES
available in just one size version (50ml)
unsuitable for low porosity hair
glass bottle may break
you must get used to natural scent of the oil
If you seek some more information, visit www.nanoil.us/almond-oil