Nanoil Jojoba Oil
Product Name:
Nanoil Jojoba Oil
Rating:
Nanoil Jojoba Oil
Time for another top oil – one of the most popular in the world. It is a natural beauty oil which is in fact fluid wax – one of its kind having untypical properties. Treasure trove of nutrients such as vitamins, squalane and fatty acids. Thanks to easy absorption and matching all skin types and actually every hair type, it is one of the most commonly-used oils for beauty purposes.
What's more, jojoba oil is natural sunblock; its structure is similar to human sebum.
DESCRIPTION
Jojoba Oil by Nanoil equals excellent quality. It is a pure oil without any useless additives, silicones or fragrances. It keeps fresh long and doesn't go rancid for long months, therefore, it is commonly-added to DIY cosmetics acting as natural preservative. Moreover, as the only one, jojoba has impressive squalane content. Its structure (similar to wax) makes it hair and skin-friendly. Nanoil Jojoba Oil is a source of healthy essential fatty acids (EFAs), plant sterols of antiaging effect, and already-mentioned squalane which improves and facilitates skin's function. It also holds lots of rejuvenating vitamin E.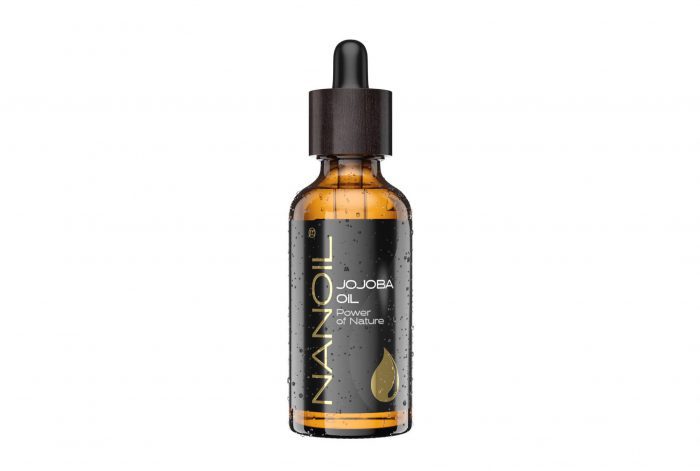 Nanoil Jojoba Oil is a natural all-purpose hair, body and face product, extracted through cold-pressing, not refined, fully organic.
Consequently, each and every drop conceals essence of what's best in seeds of Simmondsia chinensis.
PURPOSE
Nanoil Jojoba Oil is suitable to treat all hair types as well as every type of skin, from dry, aging to oily, acne, sensitive skins.
DIRECTIONS
Jojoba oil acts as strongly-repairing conditioner for all types of hair. It holds back excessive production of sebum on face and scalp. At the same time, jojoba soothes dry skin on head and moisturizes hair. Simply massage a bit into skin and hair. Jojoba oil makes hair look better, intensifies shine after single use. Enrich other hair products with jojoba oil, use it under your moisturizer or add to face and body products.
ADVANTAGES
Ecocert mark assigned to finest-quality natural beauty products
one of the most popular beauty oils
suits almost every hair type
works for all skin types
oil getting positive opinions
good value for money
100% natural, holds out long, gives amazing effects
unrefined, cold pressed, organic
all-purpose, ideal to enhance hair, skin, body and nails
the best carrier oil for home treatments and cosmetics (doesn't go rancid)
contains unique squalane essential for hair and skin
DISADVANTAGES:
thick consistency might be problematic during application
available in just one size version (50ml)
glass bottle may break
you must get used to natural oil's scent