Nanoil Macadamia Oil
Product Name:
Nanoil Macadamia Oil
Rating:
Nanoil Pure Macadamia Oil
Another extremely popular natural hair care oil and it doesn't work only for one hair type (medium porosity hair). Because it is absorbed quickly and doesn't overload hair, it works well even for easily weighed-down oily hair. Macadamia oil repairs and protects dry, sensitized and color-treated types against damage.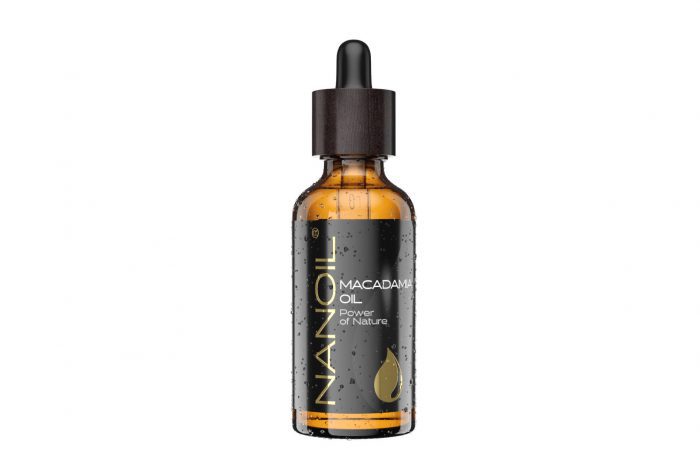 DESCRIPTION
Nanoil Macadamia Oil is 100% pure cold-pressed essence of world-known macadamia nuts. The thing that makes it stand out against others is the Ecocert seal showing it's unrefined, organic macadamia oil without any synthetic substances. Nanoil Macadamia Oil is also free from fragrances; instead, it is pure essence which preserves the entire set of active ingredients essential for hair and skin. Nanoil Macadamia Oil holds:
EFAs, essential fatty acids: oleopalmitic omega-7 acid (rare and extremely useful for skin care) and linoleic acid (omega-6)
vitamin E, necessary for keeping skin, hair and nails healthy
vitamin A
vitamins B (B1, B2, B3)
Macadamia oil is fast-absorbing; actually, it is absorbed so quickly that it is sometimes called the vanishing oil. It is perfect for hair needing reinforcement and nutrients yet Nanoil Macadamia Oil is also ideal serum for face and body for various skin types, including aging skin. It has repairing effect, protects against oxidative stress and fights cellulite. Its versatility and top quality take it to the highest positions in rankings of the best hair care products.
Without doubts, Nanoil Macadamia Oil can stand in rankings of the best body and face care oils as well; it firms up skin, enhances its looks and color, smoothes fine lines.
PURPOSE
Nanoil Macadamia Oil is all-purpose and universal. It is a brilliant hair oil treatment for many hair types, a product that nourishes the whole body including hands, feet, nails and delicate eye skin. Macadamia oil works as excellent addition to other products, hair masks and body lotions.
DIRECTIONS
Depending on your needs, use it as hair oil treatment, serum for the tips, heat styling primer, sun and post-sun emulsion, enrich your hair masks and conditioners with a bit of oil and apply it to face and body, let it act as body massage oil and ingredient in natural beauty products. Nanoil Macadamia Oil is all natural and organic – use it for whole body, to nourish nails and upgrade treatments and scrubs.
ADVANTAGES
Ecocert label assigned exclusively to top-quality natural cosmetics
good value for money
100% natural oil
holds out long, extremely effective
unrefined, cold-pressed, organic
all-purpose product; ideal for hair, face, body, nails
smoothes wrinkles
slows down hair and skin aging
holds back hair loss
quickens hair growth and stimulates hair follicles
has antiaging effect, neutralizes free radicals
contains set of vitamins essential for hair and skin (incl. vitamins B)
maintains moisture and prevents loss of water
tightens, firms up skin and boosts elasticity
nourishes, strengthens, improves hair looks and structure
DISADVANTAGES
only one size available (50ml)
glass bottle may break so it's harder to carry it in your bag
you need to get used to natural scent of fully organic oil
Get all the information here www.nanoil.us/macadamia-oil