ALTERNA Kendi Oil – Dry Oil Mist Frizz Control. Dry Oil for Frizzy Hair
Product Name:
Dry Oil Mist Frizz Control. Dry Oil for Frizzy Hair
Rating:
Alterna is a leader among companies that make hair care cosmetics. Its products are very high quality and the brand itself is really prestigious. The cosmetics combine the professionalism of hair salons and the diversity of natural safe substances. Alterna cosmetics are pure, proven and professional, which is the motto of the company.
The products are free from damaging silicones, parabens; cruelty-free.
Kendi Oil- Dry Oil Mist Frizz Control deserves special attention.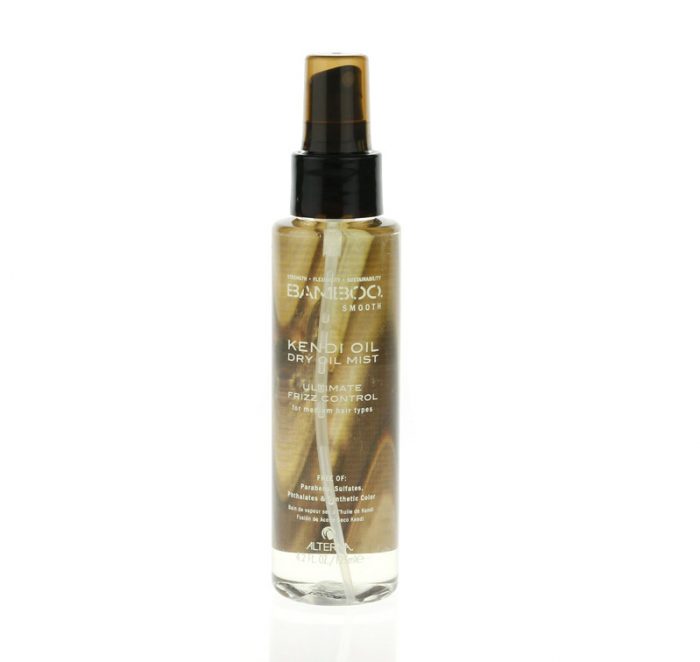 DESCRIPTION:
It is designed for hair styling. It will prove to be benign for all women who have fine and frizzy hair. The lightweight spray will not weigh the hair down but will allow to tame and style it quickly. The oil protects hair from high temperature.
Kendi Oil- Dry Oil Mist Frizz Control can be used for a daily hair treatment as it contains oils which nourish and repair hair.
Bamboo oil (Bambusa Vulgaris Shoot Extract) – makes hair thicker and denser. It will strengthen hair and prevent it from getting brittle. Among the ingredients we will find vitamins, minerals and amino acids w hich nourish and regenerate hair. Bamboo oil delivers rejuvenating properties.
Kendii ecological oil is an irreplaceable source of omega-3, omega-6 and omega-9 fatty acids. They will take care of proper processes in hair cuticles. Kendii is also rich in tocopherol which is a strong antioxidant which will keep hair bouncy and prevent it from aging.
Kendii oil contains an extract from passiflora edulis called maracuia (Passiflora Edulis Seed Oil). It offers a diveristy of vitamins and minerals that hair needs as well as many fatty acids. It nourishes hair and provides strong regeneration. The extract from the candlenut (Aleurites Moluccana Seed Oil) also works wonders – it has smoothing and rejuvenating properties and is absorbed easily. The unique ingredients of the product are enhanced with a valuable and timeless jojoba oil (Simmondsia Chinensis Seed Oil) which stimulates cellular recovery of hair and enhances its growth. It also provides fantastic protection.
Bamboo series strongly regenerates and nourishes hair. It is the combination of highly professional hair styling and conditioning.

The oil is quite runny and resembles a spray. It comes in an atomiser bottle – the application is easy and comfortable.
It is very easy to apply it to hair. Thanks to its light and non-greasy formula, the oil doesn't weigh hair down. It guarantees nice and natural finish of a hairstyle. Your hair will become shiny and silky smooth. The bottle offers 125 ml of the product and holds out long. It is good news as the price is much higher in comparison with other commercially available products.
Kendi Oil has a very nice packaging. The plastic bottle is clear and light brown. The atomiser has the colour of dark chocolate and runs smoothly. There is a sticker on the bottle which presents bamboo stems. It looks really interesting.
All fans of ecology will love it due to natural and eco-friendly ingredients.
PURPOSE:
The oil is created for styling and conditioning of fine and medium-thick hair. The lightweight formula will not weigh hair down but it will make it look fantastic instead. It provides immediate effects. The oil will also work wonders in case of frizzy hair. It is perfect for women who are demanding towards styling cosmetics and read the ingredients thoroughly.
DIRECTIONS:
Kendi Oil- Dry Oil Mist Frizz Control should be sprayed onto damp hair right after washing. It may be applied to dry hair prior to styling. It will make the styling easier and tame the strands.
ADVANTAGES:
ecological, free from silicones and parabens
ultralight formula does not weigh hair down
no greasy layer
high content of precious oils
beautiful bottle and nice fragrance
incredibly quick hair repair
easy application
DISADVANTAGES: