ALTERNA – Kendi Oil. Ultimate Frizz Control. Pure Treatment Oil for Thick & Coarse Hair
Product Name:
Ultimate Frizz Control. Pure Treatment Oil for Thick & Coarse Hair
Rating:
ALTERNA Professional Haircare can boast about years of experience in creating cosmetics for hair styling and conditioning. Quality and prestige are the most important to the company; it picks the ingredients of cosmetics carefully. Other brands lag behind and can only try to imitate Alterna. The brand goes for quality, exclusiveness, effect and ecology. It often makes use of natural ingredients therefore it has taken a liking to the oils as well. It uses the power of oils in cosmetics with great success. Kendi Oil Ultimate Frizz Control is among the most popular of Alterna cosmetics.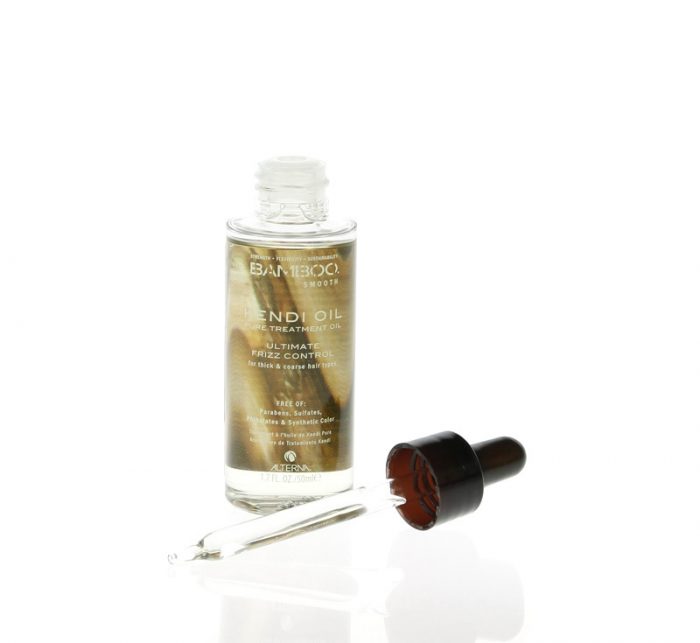 DESCRIPTION:
Pure Treatment Kendi Oil is almost an identical version of Kendi Oil- Dry Oil Mist Frizz Control. It does not have an atomiser bottle but a pipette instead. That is why it resembles all professional bio-oils available at eco stores. The application with the use of the pipette is extremely comfortable as we can dose the amount of the product. What is more, it looks very professional thus we feel that the product will provide our hair with professional care.
The oil is dense and very concentrated therefore it is not recommended for fine hair – it may weigh it down.
Kendi Oil Ultimate Frizz Control is a professional product. It contains a high concentration of various oils which will quickly regenerate hair and reduce frizz.
The diversity of oils in the product is astonishing. It contains as many as nine oils. They are all special and well-suited thus worth describing.
Bamboo oil (Bambusa Vulgaris Shoot Extract) – makes hair thicker and prevents frizz.
Jojoba oil (Simmondsia Chinensis Seed Oil) – its ingredients are similar to the ones of the sebum produced by our organism therefore the oil will take care of proper level of sebum. It contains a natural sunscreen and speeds up cellular recovery.
Buriti oil (Mauritia Flexuosa Fruit Oil) – precious oil coming from North America. It is abounding in fatty acids, protects from damaging UV radiation, hinders aging processes.
Wheat germ oil (Triticum Vulgare Germ Oil) – recommended mainly for women who look for oils which offer strong rejuvenating properties. It will stop hair aging processes and take care of proper functioning of hair cuticles.
Grape seed oil (Vitis Vinifera Seed Oil) – enhances the recovery of skin and hair, prevents brittle hair and moisturizes. It contains a diversity of vitamins: A, E, K, D. Linoleic acid and lecithin rejuvenate and deliver shine.
Kukui oil (Aleurites Moluccana Seed Oil) – extracted from the nuts of the plant found mainly in Hawaii. It offers numerous unsaturated fatty acids, makes hair more resistant to damages. It also includes a variety of vitamins of youth – E, C and A. It will make hair soft and shiny. Kukui oil is extremely delicate and does not cause irritation.
Olive oil (Olea Europaea Fruit Oil) – penetrates into hair easily; has strong moisturizing properties. It will enhance hair growth and provide deep regeneration.
Avocado oil (Persea Gratissima Oil) – tames as well as moisturizes hair and makes it shiny. It improves hair condition, closes hair cuticles and smooths the strands.
Passiflora edulis oil (Passiflora Edulis Seed Oil), namely maracuja oil – extracted from the plant which is mainly found in South America. Passiflora oil contains a strong concentration of minerals (calcium, iron, magnesium, phosphorus, potassium, sodium and zinc), mono- and polyunsaturated fatty acids, vitamins: C, A, K, E and folic acid. It is the source of healthful ingredients which restore shine and nourishing in hair. Moreover, the oil makes hair more resilient, leaves it healthy and in good condition.
Thanks to the great number of oils, ALTERNA product is unrivalled and stands out among other products.
The cosmetic is enriched with carrot extract which contains a lot of beta carotene. It will deal with dry and brittle hair as well as make detangling hair easier. It offers moisturizing properties. Aloe vera extract will make hair more resilient and will not allow toxins to cumulate inside the hair. The oil moisturizes well. Hair becomes shiny but not frizzy. Japanese horseradish (wasabi extract) contains lots of vitamin A and all group B vitamins. They will strengthen hair and enhance hair growth. Algal extract penetrates into the inside of hair, nourishes and rebuilds damaged hair. It will help even most damaged hair and provide it with beautiful shine.
The power of the oils included in the cosmetic is extraordinary and guarantees spectacular effects. There is a reason why the manufacturer promises that your hairstyle will become "resilient, strong, smooth and long-lasting". The oil will provide hair with comprehensive care and regeneration. It is dense and efficient as well as ecologically-friendly, free from silicones and parabens, cruelty-free; the bottle can be recycled. It offers small capacity (50 ml) but it doesn't run out quickly because you need small amount for everyday use. 1-2 drops applied to hair is enough.
PURPOSE:
The oil is suitable for daily hair care of thick and coarse hair. The oil density may weigh fine hair down too much. Luckily, there is also an atomiser version of the oil which is suitable for fine hair.
DIRECTIONS:
The oil can be used as a weekly treatment: apply it to hair right before washing and leave for 10 minutes.
It is an excellent product which provides hair with every day protection. It should be applied to damp, washed and towel-dried hair. Do not rinse.
ADVANTAGES:
as many as ten conditioning oils
natural ingredients
paraben-free and silicone-free
ecological
immediate and spectacular effects
efficient
very nice packaging
pleasant fragrance
cruelty – free
bottle can be recycled
DISADVANTAGES:
high price
be careful with the pipette – it may break if it falls down