Dabur, AMLA HAIR OIL
Product Name:
AMLA HAIR OIL
Rating:
Dabur company was founded in 1884 in Calcutta. Its products are based on traditional medicine of the ancient east called Ajurwerda. It is the most recognizable brand in India. Most of the ingredients used to create natural oils are inspired by the philosophy of the East. No wonder, that hair oils produced by Dabur are so popular. Amla Hair Oil is definitely worth mentioning.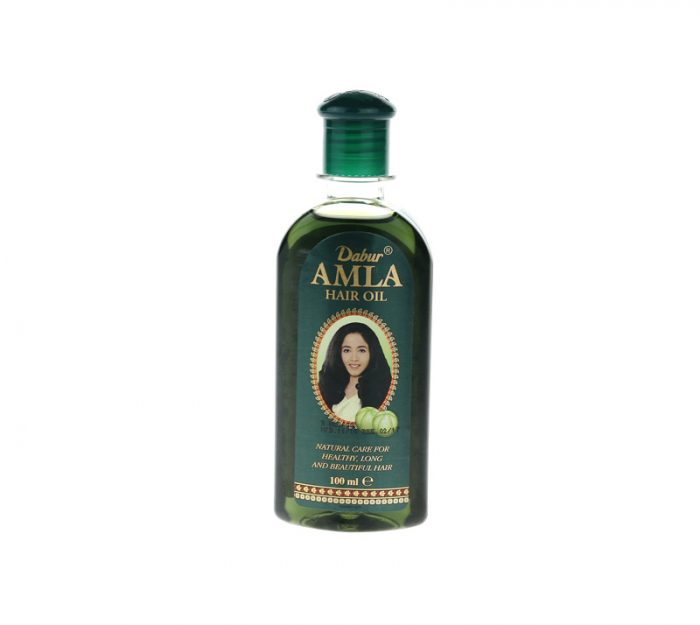 DESCRIPTION:
Amla Hair Oil is an original Indian hair oil and for decades used by women of that region. It recently expanded outside of India and quickly became a worldwide hit. It contains extract of the Phyllanthus emblica fruit, commonly called "Indian gooseberry" or simply amla.
Amla (Phyllanthus Emblica Fruit Extract) has been known for centuries and willingly used by Indian Women for the care of their long, thick, strong hair. After a regular use, the scalp is healthy, roots nourished and strong, the hair is shiny, and the ends are not splitting. Amla stimulates hair growth because it acts directly on the hair cells and follicles. Additionally, it increases its strength, improves flexibility. Slows the ageing process of the hair and enhances its colour. Hair becomes thicker and more elastic. What is more, you can notice fewer hairs on the brush.
Dabur product also contains other oils in addition to the famous Phyllanthus Emblica Fruit Extract.
Rapeseed oil (Oleum Rapae) protects brittle hair and facilitates combing. Protects hair, whose owner loves drying and straightening. Especially suitable for high porosity hair. It includes rejuvenating vitamin E and a variety of minerals to supporting proper hydration of hair and preventing brittleness and loss.
Palm oil (Elaeis guineensis Oil) – ideal for mature hair and extremely bad condition. It will take care of even very dry hair. Additionally, it has a high content of antioxidants.
Sweet almond oil (Prunus Amygdalus Dulcis Oil) – is rich in vitamins of youth such as: A and E. It slows down the ageing process, protects the hair against water loss from the cells. Adds shine and helps regenerating even very dry hair.
Rosemary oil (Oleum rosmarini officinalis) – works on dry and damaged hair as well as oily. It has a valuable property, which can be called: the guardian of clean hair. It does not allow any pollution from the outside to access to the interior parts. Bacteria, dust and dirt will be kept away from the hair and scalp.
The richness of precious oils determines its prestige. The presence of clogging the hair cells parrafin turns out negatively.
This particular oil has a green colour and its consistency is watery. 100 ml of the product will not last for a long time, especially with long hair. It comes in a straight bottle covered with a conventional plastic bottle cap. Therefore, applying it on the hair is not easy because of the consistency and the way of application. A large amount of the product simply spills.
The scent of the oil, unfortunately, does not work in its favour. The oil has a strong smell, not resembling any plant or fruit. Many Internet users compare it to the smell of mothballs, cleaning agents and toilet disinfectants. That is why keeping it on the hair for two hours might become a problem.
PURPOSE:
Oil is suitable for all hair types, but especially for women having an extremely damaged hair demanding an instant regeneration. Because of its scent, it is not a popular choice for people who have low porosity hair, and only want to provide good protection only. Many Internet users refer to it as "the ultimate rescue" in the fruitless struggle for the regeneration and beauty of the hair.
DIRECTIONS:
Apply a small amount of the oil on the fingertips and gently massage the scalp for 5 to 10 minutes. The best results will be achieved after leaving it on the hair for at least two hours under a warm towel.
ADVANTAGES:
spectacular effects thanks to amla oil extract
amla's effects are improved by other oils
does not weigh the hair down
tested and recommended by women around the world
DISADVANTAGES:
unpleasant scent
difficult application
inefficient