Davines OI OIL Absolute Beautifying Potion With Roucou Oil
Product Name:
OL OIL, Absolute Beautifying Potion With Roucou Oil
Rating:
Davines creates high quality cosmetics which are popular in hair salons. The brand tries to make stylish and high quality products and at the same time take care of the environment. Davines likes to use appreciated and natural ingredients, which is also true in case of a hair oil with roucou extract.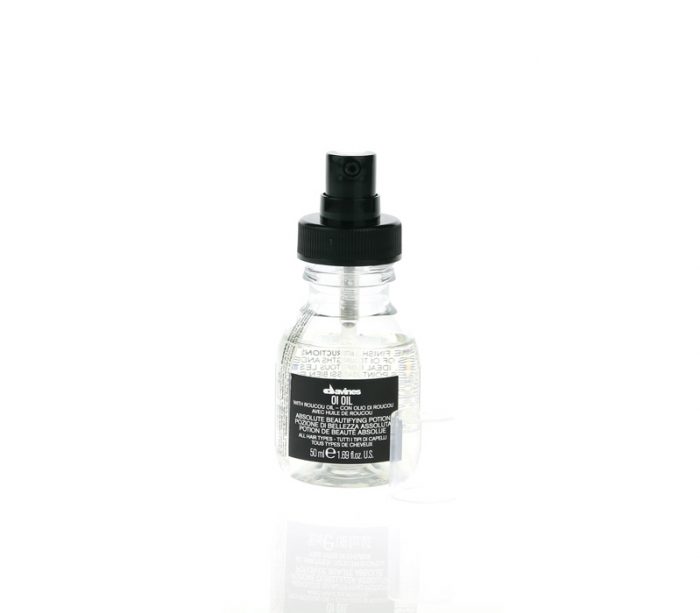 DESCRIPTION:
The company is not afraid to call the product "comprehensively beautifying mixture". The oil's task is to satisfy all needs of hair. Achiote, from which roucou oil is extracted, is among the ingredients which make the oil so versatile.
Roucou oil (Bixa Orellana) is dense and rich in valuable ingredients. It is abounding in beta caroten which rebuilds damaged hair structure. For this reason, Indians call it "youth potion". It protects hair from harmful UV radiation, enhances its resilience and even stimulates its growth. It contains lots of ellagic acid which neutralizes free radicals and slows down hair ageing. It prevents loss of density inside the fibres. It influences the internal and external structure of hair – regenerates inside and coats outside. Hair becomes shiny, bouncy and easier to style.
Moreover, the elixir contains sunflower seed oil (Helianthus Annus Seed Oil/Sunflower Seed Oil) which includes omega-6 acid. It protects from premature hair ageing, adds shine, moisturises and repairs hair structure.
Among the ingredients of Absolute Beautifying Potion we will also find new generation synthetic oils – a mixture created in Davines laboratories which makes a silicon layer protecting hair.
Davines Oil brings shine, makes hair nice to the touch and delicate. It doesn't weigh hair down and makes styling easier. It creates a strong protective barrier that surrounds hair.
It slows down processes responsible for weakening hair fibres as well as speeds up blow-drying.
Davines products are quite costly. You have to pay a considerable amount of money for 50 ml serum. If we are looking for a product abounding in natural oils, Davines Oil may let us down a little: the amount of roucou oil is not impressive.
The product has a very nice design: clear barrel-shaped bottle with a black label which suits a plastic pump colouristically. The bottle is one of its kind – the manufacturer gave up the oriental style which is characteristic for most products containing oils. Glamour minimalism is best to define it both in case of the oil's packaging and capacity.
The pump runs smoothly. Sadly, it wears out quickly. The fragrance is not stunning.
PURPOSE:
The product has been created for all hair types. Davines Oil is a cosmetic preparation containing an oil rather than a regular oil. It is a very prestigious cosmetic which provides immediate nourishing as well as improves the appearance and condition of hair. It can be used to enrich your hair conditioner.
DIRECTIONS:
Davines Ol Oil should be applied to damp or dry hair. Depending on the thickness and density of hair, 3-4 or more drops of the product are recommended. Dosing should be adapted to the individual needs and condition of hair.
ADVANTAGES:
contains an extraordinary oil offering strong regenerating and rejuvenating properties
immediate action, spectacular effects
easy application
doesn't weigh hair down
very nice bottle
DISADVANTAGES:
small capacity, inefficient
unpleasant, irritative scent