Dove Advanced Hair Series, Pure Care Dry Oil, conditioner for dry and dull hair
Product Name:
Advanced Hair Series, Pure Care Dry Oil, conditioner for dry and dull hair
Rating:
Dove company does not limit the beneficial effect of oils only to specialized formulations. They are also the components of shampoo and hair conditioners.
Especially rich in such valuable substances is the Advanced Series conditioner for dry hair and dull hair from Dove.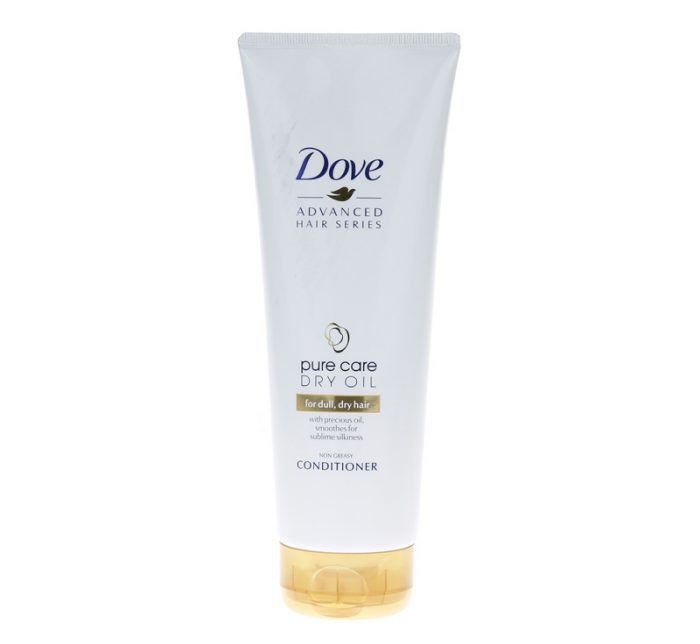 DESCRIPTION:
The product contains three oils.
Coconut oil (Cocos Nucifera Oil), nourishes hair, provides minerals for damaged and weakened hair. It is a source of zinc, potassium and magnesium. It closes hair cuticles, so that they become smooth and shiny. Additionally, it replenishes the deficiency of protein.
Macadamia oil (Macadamia Ternifolia Seed Oil) is rapidly absorbed into the hair. Do not worry, it will not leave a heavy, greasy film. It comprises a monounsaturated fatty acid of the omega-7 (palmitoleic acid). It is the main component of sebum, found in our hair follicles. Supplementing its deficiency will leave your hair in a great condition. It will also improve the processes occurring in them. Ingeniously rejuvenates the hair and prevents it from the loss of moisture. Works great even for very dry hair.
Almond Oil (Prunus Amygdalus Dulcis Oil) – contains a very large amount of vitamin A and E. They are called the vitamins of youth. They help to maintain hair resilience and slow down ageing processes. Oil will not allow any water loss of hair cells. It restores dry, damaged locks and it will be a great salvation for brittle hair. What is more, it will not let any further fibre damage but will moisturise, strengthen and add glow. Hair will regain vitality.
The main task of the conditioner is to nourish and smooth the hair. It will become healthier and soft. In addition, it contains a special complex of keratin (Keratin Repair Actives) that is aimed to rebuilt the hair fibres, provide elasticity and close the scales. Right after the application, our hair will be incredibly soft and you will be able to notice an instant improvement in its condition. No more frizzy, dull coarse hair. In addition, there are no tangles and it is easier to brush it.
Pure Conditioner Care Dry Oil has a nice smell of honey combined with caramel. It comes in a large white tube with a capacity of 250 ml. It is enough for 2-3 months of use. The packaging is made of a very flexible plastic that causes no problems with squeezing the conditioner on the hand. Unfortunately, the cap of the bottle appears a little bit disappointing.
It is quite rough, and opening it requires a bit more effort (especially when you hold the conditioner with wet hands).
What is more important, it is a pleasant surprise that as many as three oils are used in this preparation. On the other hand, introducing large amounts of alcohol (it is on the list before the oil!)to the product, is not a good idea.
PURPOSE:
Dove conditioner Pure Care Dry Oil is designed for dry and damaged hair. It provides moisturising and smoothing properties. The effects are visible immediately. Your hair will gain not only beautiful appearance. It also becomes very soft, silky smooth and smells beautifully. With time, less damage to the hair is noticed.
DIRECTIONS:
Dove Pure Care Dry Oil should be used after shampooing, to wet hair, avoiding the roots. Leave it on the hair for a minute and rinse well.
ADVANTAGES:
the power of three well-chosen oils
actively rebuilding keratin
immediate effect of nutrition and shine
hair is tamed and soft
large packaging
DISADVANTAGES:
attention to the large amount of alcohol in the composition
cap causes problems when opening