Dove Advanced Hair Series, Pure Care Dry Oil
Product Name:
Advanced Hair Series, Pure Care Dry Oil
Rating:
Dove oil for all hair types is almost an identical version of Dove oil for mature hair. It has equally fancy look and almost the same fragrance. The only difference is the ingredients which are supposed to provide optimal effects to all hair types. It is a part of the series that has been based on oils which are the main ingredients of the product. It is very good alternative to natural oils available at stores offering natural cosmetics.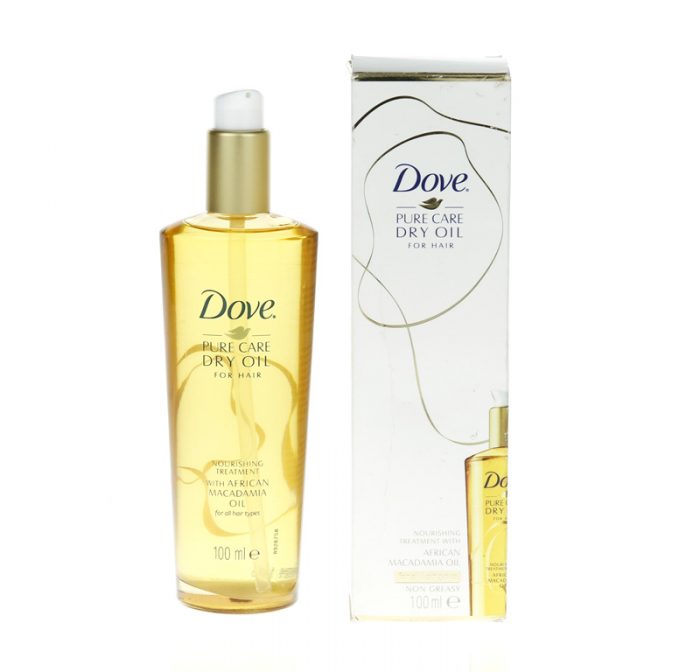 DESCRIPTION:
The information on the packaging says that Dove Oil is enriched with African macadamia oil – it is far too modest as the cosmetic includes more precious oils which are worth mentioning:
The main ingredient is the above-mentioned macadamia oil (Macadamia Ternifolia Seed Oil). It is one of the most popular hair oils due to the incredible absorption. It penetrates into hair immediately. It leaves the strands lightweight and not weighed down with greasy structure. It starts the struggle for beauty when it is inside the hair: omega-7 fatty acid (oleopalmitic) makes hair healthy, dense and thick.
High amount of coconut oil (Cocos Nucifera Oil) which brings dehydrated, weak and dry hair instant relief; protects from harmful UV radiation.
Sweet almond oil (Prunus Amygdalus Dulcis Oil) – softens hair and strengthens its protective barrier.
Sunflower oil (Helianthus Annus Seed Oil/Sunflower Seed Oil) is abounding in carotene and vitamin E; stimulates the production of collagen fibres thus hinders ageing processes.
Palm oil (Elaeis Guineensis Oil) – thanks to antioxidants included, it fights off free radicals and regenerates hair.
Pomegranate seed oil (Punica Granatum) – much lower amount in comparison with the version for mature hair. It stops ageing processes very effectively.
The above-mentioned oils are the most important ingredients of Dove Pure Dry Oil. You don't have to wait long for the effects. Obviously, it depends on the hair type and damage but you will observe results after the first usage.
The manufacturer made sure that the cosmetic contains harmless and volatile silicones which won't damage our hair but provide it with strength and protection instead.
The only weakness of the product is liquid paraffin which surely is not there to serve your hair.
Dove Pure Care Dry Oil has a very nice packaging: fancy glass bottle that houses the oil of beautiful honey colour. We get an impression that the cosmetic has been created with great care and attention. The oil is efficient and has a pleasant scent. The bottle contains 100 ml of the preparation. Dove Pure Care Dry Oil holds out long.
PURPOSE:
Pure Care Dry Oil is designed for all hair types thus also for oily hair. The oil is lightweight and doesn't weigh hair down. It is perfectly absorbed and doesn't leave a greasy film. Its task is to make hair shiny, protect the ends and regenerate. It smooths very well and helps in styling hair.
DIRECTIONS:
There are three ways of usage:
Spread 3-4 portions onto washed and damp hair, starting from the middle and moving downwards.
Apply the oil to hair before washing and leave it for 30 minutes.
Apply the oil to dry hair to complement and strengthen daily hair care.
Each of us has different hair thus it's a good idea to try all three methods of usage and choose the most suitable one.
ADVANTAGES:
very good choice of conditioning oils
light formula, doesn't weigh hair down
versatility: various hair types and different needs
elegant packaging means consideration for the product and the customer
DISADVANTAGES:
liquid paraffin among the ingredients