Dove Advanced Hair Series. Serum in-oil
Product Name:
Advanced Hair Series. Serum in-oil
Rating:
Dove Company trusted hair oils. This is another cosmetic that contains the composition of up to 4 natural oils. However, it is unique because it does not have the characteristics typical for regular oils. What distinguishes it from other products?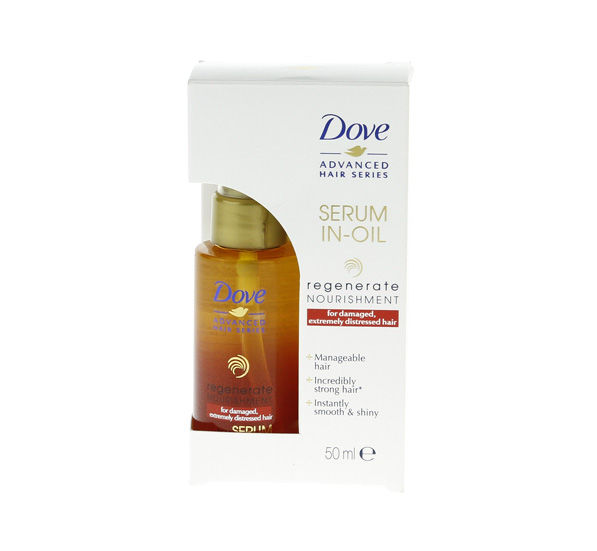 DESCRIPTION:
Dove Advanced Hair Series. Serum in-oil is a unique cosmetic. The company has combined the power of essential oils with the intensity of a serum. This resulted in an innovative product: oil serum for hair. The manufacturer claims that the serum gains dual power, as it combines the power of nutritional oils and intense, concentrated serum.
The oil takes care of the hair on the surface by beautifying and giving shine. Whereas the serum penetrates into the interior, and there begins the battle for beautiful hair by regenerating and repairing it. The main task of Dove greasy serum is to improve the appearance of hair while repairing.
Serum contains up to four valuable oils. It is worth describing their properties.
Coconut oil (Cocos Nucifera Oil) – protects the outer layer of the hair. It does not allow to raise the cuticles or leave an unpleasant greasy coating. It nourishes and complements defects on the surface of the hair. Additionally, it protects against harmful UV radiation.
Palm oil (Elaeis guineensis Oil) moisturises and smooths the hair. Works well on very dry and damaged strands. Gives elasticity and smoothness.
Sunflower (Helianthus Annus Seed Oil / Sunflower Seed Oil) moisturises and conditions hair very well. Also adds shine and strengthens weakened strands.
Almond oil contains approximately 60% EFA, a large amount of protein that is the building block of the hair and skin tissue. It has a number of minerals and vitamins (vitamin E, PP, phosphorus, magnesium, calcium and iron). It is an excellent conditioner for dry, extremely damaged hair.
The serum contains a UV filter and a light and harmless silicone called Phenyl, which efficiently protects the hair ends from injuries and splitting. It improves the structure of damaged and broken hair. Smooths and protects against hot air from the blow-dryer. A good silicone included in the Dove Serum in-oil a thickening and oiling component with a strange name Amodimethicone. It facilitates combing and prevents dryness.
The product contains a number of substances to prevent water loss from the hair. They moisturise and condition hair very effectively.
Not glorious, unfortunately, is the use of paraffin by the company, which is a product of the distillation of crude oil and does not make any good to hair. It absorbs dirt and bacteria. Blocks beneficial substances from penetrating deeply into the hair. Too bad, Dove.
Serum has a very pleasant scent. Its smell has nothing to do with oils, it is intensely fruity.
The bottle has a small volume (50 ml) and, unfortunately, the cosmetic will not last for a long time. The serum is equipped with a tiny gold pump, which must be pushed quite strongly and vigorously to work.
Dove Serum in-oil presents rather nice – the plastic bottle is kept in warm, orange-red tones. The colours intermingle nicely and in the middle you can see clearly that the oil is of a not too thick consistency.
PURPOSE:
Dove Serum in-oil is designed for all women who have a very coarse, brittle, unruly hair. This is an advanced treatment providing double effects of a strong serum and nutritive oils. Takes a good care of the ends of the hair. Moreover, it absorbs quickly and does not weigh the hair down. Therefore, even women who have oily hair can safely reach for the product.
DIRECTIONS:
Serum can be applied to wet hair, immediately after washing (3-4 servings of the preparation) or on dry hair (1 serving). They are to be applied from mid-length towards the ends.
ADVANTAGES:
an innovative combination of serum and oil
four precious oils in the composition
lightweight formula, does not weigh the hair down
fast, trouble-free application
nice packaging
fresh, pleasant, floral scent
use of harmless silicones
DISADVANTAGES:
comprises a paraffin wax
sometimes, the pump does not work properly
small capacity of the product