Dove Pure Care Dry Oil Restorative Treatment With Anatolian Pomegranate Seed Oil
Product Name:
Pure Care Dry Oil Restorative Treatment
Rating:
Dove product has a beautiful and elegant packaging – glass bottle with a dispenser. It is created for mature hair and enriched with pomegranate seed oil which offers anti-ageing performance.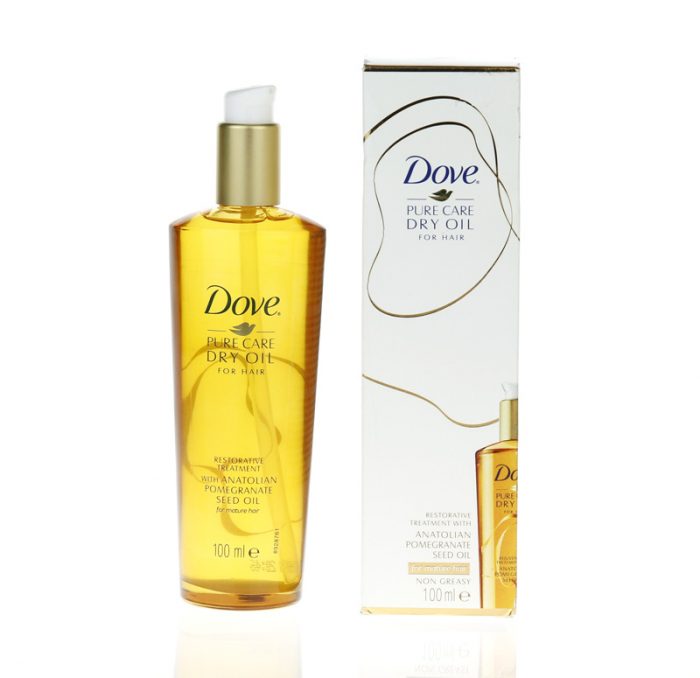 DESCRIPTION:
The role of Dove preparation is to care for hair which needs specialized protection. The main and most important oil in the product is pomegranate seed oil (Punica Granatum) which has been known for ages for its anti-ageing properties. The oil contains more or less 70% of punic acid. The acid belongs to the group of omega-5 acids and excellently fights with the signs of hair and skin ageing. The pomegranate seed oil is not the only one included in the cosmetic. There are five more precious oils.
Coconut oil (Cocos Nucifera Oil) – moisturises, cares for hair ends and rids hair of harmful substances. It will prevent impurities from penetrating into the hair.
Sweet almond oil (Prunus Amygdalus Dulcis Oil) – gently regenerates hair from the roots to the ends; makes hair strong; protects from the damaging influence of free radicals; keeps hair hydrated.
Sunflower oil (Helianthus Annus Seed Oil/Sunflower Seed Oil) – high concentration of unsaturated fatty acids (the research has shown that sunflower contains 80-90% of the acids). It prevents electrified and dry hair.
Palm oil comes next (Elaeis Guineensis Oil) – strongly moisturises and regenerates hair, strengthens hair bulbs.
Macadamia oil (Macadamia Ternifo lia Seed Oil) – popular in cosmetics due to splendid absorption. It speeds up blow-drying as it pushes away water particles. It cooperates with sebum produced by our organism thus regulates its production.
The oils enhance natural protective hair barrier, moisturise, make hair resilient, take care of damaged, brittle and dry hair ends, fight off free radicals, tame strands, restore and prevent frizz. What is more, they stop ageing processes. The majority of the above-mentioned oils offer splendid absorption, therefore the product doesn't weigh hair down. Sunscreen, included in Dove Pure Care Oil, creates natural barrier protecting from the effects of sunbeams.

Dove Pure Care Dry Oil looks really nice – comes in a fancy glass bottle. The bottle is handy and has a pump which allows for the precise application of the product.
The oil inside the bottle looks like honey which is bound to make the life of our hair sweeter. The fragrance is also sweet as well as delicate and pleasant. The cosmetic is efficient – 100 ml holds out long.
DIRECTIONS:
There are several ways of applying the oil:
Spread 3-4 portions onto damp and towel dried hair, starting from the middle and moving downwards; no need to rinse.
 Apply it to dry hair after washing – your hair will be more intensively moisturised and more resilient and shiny.
During hair conditioning treatments, add it to a conditioner or mask for hair treatment, which will intensify the action of the cosmetics.
PURPOSE:
It is recommended to ladies who worry that their hair is becoming affected by the passage of time. The main task of the cosmetic is rejuvenating hair and regenerating even extremely damaged hair. It can also be used in case of really tired hair e.g. because of hairstyling treatments like permanent wave, curler, flat iron, regular hair colouring, bleaching. The oil provides hair with comprehensive anti-ageing action. Interestingly, it is the only oil, in the cosmetic offer, aimed at mature hair.
ADVANTAGES:
very smart packaging
six oils among the ingredients
sunscreen
smooths and tames the strands
doesn't weigh hair down
efficient
nice scent
versatile usage
DISADVANTAGES:
the oil contains detergents which doesn't facilitate the penetration of beneficial substances into hair
slick pump which makes the application harder