Eveline Cosmetics, Amazing Oils
Product Name:
Amazing Oils
Rating:
Eveline Cosmetics is one of the largest Polish cosmetic manufacturers. The company's products are exported almost all over the world (65 countries, 5 continents). The brand is characterized by innovation, professionalism and knowledge of the latest trends in cosmetics suitable for skin and hair care. Therefore, it is not surprising, that Eveline Cosmetics quickly started releasing products based on natural oils. What are they like in comparison to others? One of the most interesting products is the dry oil for face, body and hair.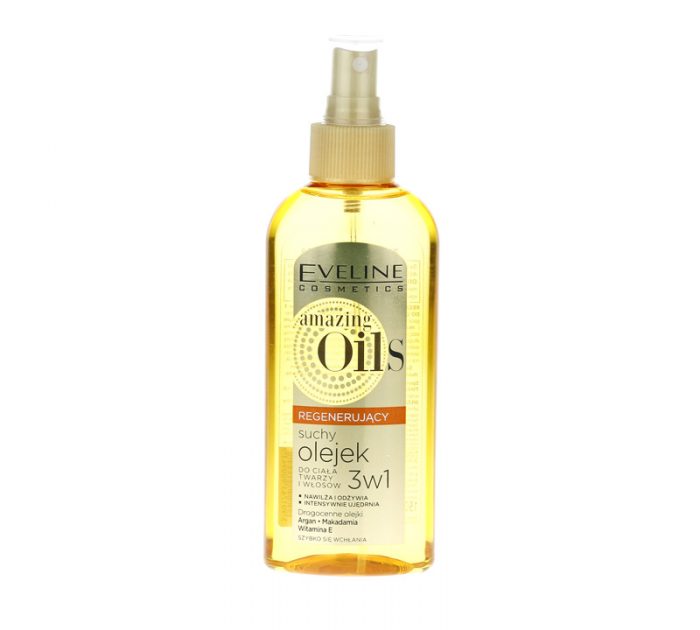 DESCRIPTION:
The product surprises with the versatility of use. It can be used on the face, body and hair. In this respect, it really meets the criteria characterising natural oils, because pure natural oils have exactly the same properties. (However, some natural oils are edible, but the Eveline one is not). Moreover, it is worth mentioning that the composition contains large amounts of two, precious oils.
Argan Oil (Argania Spinosa Kernel Oil) – ideal for damaged, weak hair. Recommended for all who often undergo different kinds of hair treatments at the salon. Restores the condition of hair, prevents brittleness, improves elasticity.
Macadamia Oil (Macadamia ternifolia Seed Oil) – is a very light oil, which does not weigh the hair down and leaves no greasy film on the surface. Very well absorbed by both the hair and skin. It consists of a unique, monounsaturated fatty acid from the group of omega – 7 (palmitoleic acid). It complements the deficiency of valuable components, responsible for hydration and nourishment of your hair. This acid is also a component of sebum produced by our body. The lack of it causes ageing of the skin and hair. Additionally, it is a good moisturiser.
Eveline Amazing Oils contain really high levels of natural oils and a lot of silicones, but luckily many of them are harmless or volatile.
This regenerating dry oil also contains vitamin E, which is called the vitamin of youth.
The product impresses with its versatility of use. It is an ideal cosmetic for the trip or holiday. It replaces body lotion, emulsion after sunbathing, facial cream and hair conditioner. It absorbs quickly and provides a light glow.
However, this versatility does not guarantee a long lasting use. 150 ml of the product runs out very quickly, even though it is relatively efficient.
The product comes in a simple, flat, plastic bottle with a gold, nice sticker. It is equipped with an atomizer, which facilitates spraying the product on the hair and body. Dosing the oil is a bit confusing, it is easy to spray too much. The atomizer is protected by a small, transparent cap, which is unfortunately, very hard to open.
PURPOSE:
Oil is suitable for all hair types, especially those requiring intensive regeneration. It will also take a good care of extremely dry skin by moisturising and firming it. It is universal, especially useful when travelling, because it will replace your hair conditioner, lotion, after sun oil, and even face cream.
DIRECTIONS:
The product can be used on face and body (apply it on dry or wet skin with circular motions). When it comes to the hair care, apply it either on wet or dry hair. The attached atomizer makes it easier to spray on the entire length of your hair. You can use it only on the ends to protect them from splitting.
ADVANTAGES:
great amount of valuable oils
nice scent
versatility of use (can successfully replace several cosmetics)
easy and fast application
quite efficient
light formula, easily and quickly absorbed
DISADVANTAGES:
contains a large amount of silicone and other comedogenic substances
the cap is quite slippery, it is hard to open.