Garnier Fructis. Miraculous Oil. Nourishing and Shine
Product Name:
Miraculous Oil. Nourishing and Shine
Rating:
Garnier has taken particular liking in precious oils used in cosmetics. Although there is only a small amount of the oils in some cosmetic preparations, Nourishing and Shine Oil offers a large concentration.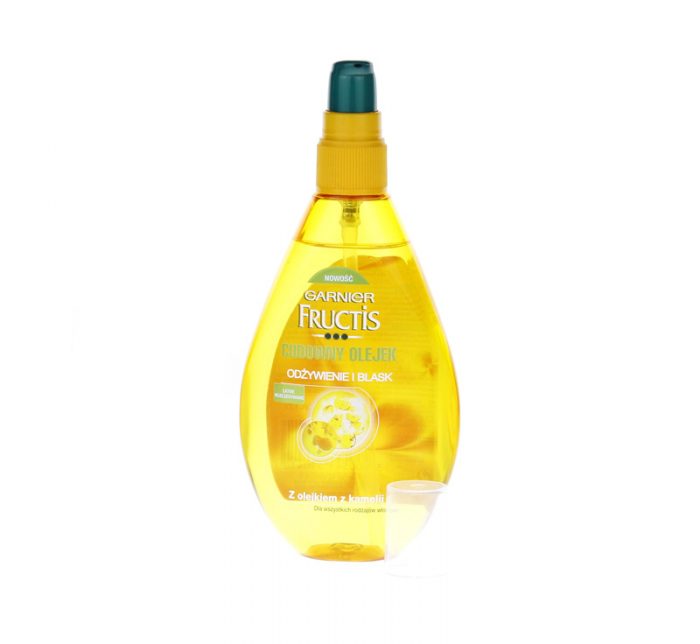 DESCRIPTION:
Oils play a key role in the cosmetic – fewer chemical substances, more natural ones. It is reflected in the appearance of the bottle which resembles a drop of an oil. The packaging is very nice and aesthetic.
The oil contains two precious hair oils:
argan oil (Argania Spinosa Kernel Oil) – called liquid gold of Morocco – one of the most expensive and appreciated oils in the world. The production of one litre of oil requires thirty kilos of fruits and eight hours of work. However, the efforts pay off. Argan oil has strong regenerating properties and stops ageing processes as it enhances recovery of hair cuticle. Women who have brittle and dry hair should become friends with the argan oil.
camellia oil (Camellia Oleifera Seed Oil) – known and used in Japan for ages, contains a unique ingredient which conditions hair: squalane. It protects the lipid layer of the skin and hair and controls sebum production. Interestingly, squalane used to be available only at expensive and exclusive cosmetics. Now, we can all learn about its power of rejuvenating and restoring properties. Camellia seed oil has strong moisturising and regenerating qualities as well as contains vitamins A, B, E and protects from the harmful UV radiation.
The good news is that the oil contains only harmless silicones, including one volatile. It also has a small amount of alcohol and scent substances.
The manufacturer guarantees its effectiveness and indeed the effects of regenerated and nourished hair can be observed quickly. The cosmetic makes hair shiny but doesn't weigh it down at all. It has a very pleasant fragrance: delicate and a bit oriental.
What is more, the product helps to detangle hair – good news for women who struggle with dry and tangled hair after washing.
The bottle offers 150 ml of the oil, which is really impressive in comparison with other oils.
"Miraculous oil" has a comfortable and functional pump which makes dosing easier and the oil more efficient.
PURPOSE:
The oil is versatile: designed for all hair types thus you can buy it together with your friend before going on holiday. One cosmetic, more room for baggage. It makes hair shiny and nourished; cares for and tames hair ends. It restores and leaves a nice scent on hair; protects from the sun.
DIRECTIONS:
There are three methods of usage:
Before washing, as an oil mask, leave it on hair for minimum 30 minutes, then wash away with a shampoo.
Added to your favourite hair mask or conditioner (one portion is enough). Use a mask or conditioner as usual.
Applied to dry hair – as a fast, beautifying and taming hair treatment.
ADVANTAGES:
high concentration of high quality conditioning oils
lightweight formula
designed for all hair types
immediate effect
large capacity (150ml)
pleasant, slightly oriental scent
nice bottle
DISADVANTAGES:
small and a bit slick dosing button