Garnier Fructis. Mist oils for dry, damaged, brittle hair
Product Name:
Mist oils for dry, damaged, brittle hair
Rating:
Garnier Fructis Triple Nutrition Miraculous Oil in Spray for dry hair.
The Garnier company is not afraid of bringing innovative and surprising products to the market. In its offer we encounter cosmetics that are hard to find anywhere else (for example, a special treatment for blond hair preventing from yellow tones or an "activator of exuberance" that comes in a tube).
As for the popular hair oils, Garnier is not left behind, on the contrary, went one step ahead and launched an oil mist for dry, damaged and brittle hair.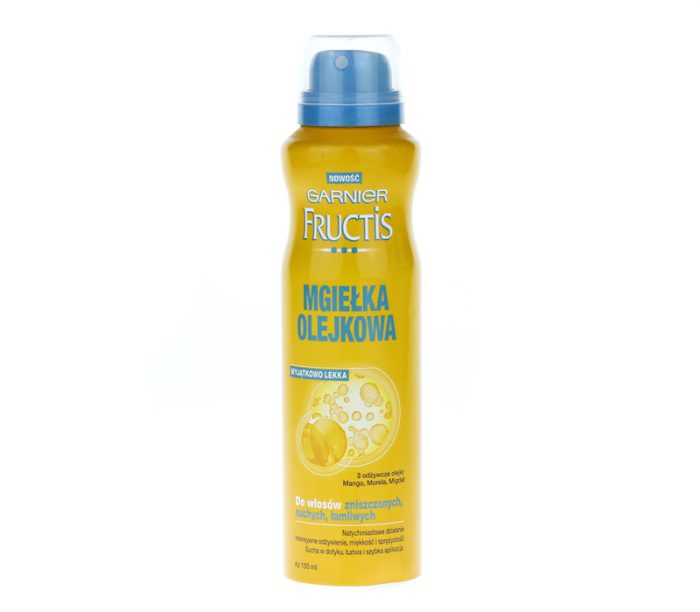 DESCRIPTION:
Oil in spray was created in an unusual way. It resembles a body deodorant. The manufacturer ensures that the micro-spray formula provides maximum absorption of the three beauty oils closed in an aerosol.
Oils, which derive from mango, apricot and sweet almond contained in the product, provide high protection and an internal nutrition of the hair.
Mango oil (Mangifera Indica Seed Oil) contains precious vitamins B, C, E, carotene and protects hair from harmful UV radiation. Furthermore, it softens and regenerates the hair.
Apricot oil (Prunus Armeniaca Kernel Oil) is an absolute hit when it comes to the diversity of essential fatty acids. It takes care of the proper course of favourable processes inside the hair.
Sweet almond oil (Prunus Amygdalus Dulcis Oil) regenerates both hair and skin very well, and thus repairs any damage on the surface and inside of the hair. It is also extremely delicate.
All three oils will nourish your hair, providing a comprehensive protection. However, in the Fructis oil in spray, the amount of the oil is not startling which is why, it is hardly expected to notice any visible, revolutionary, hair regeneration. Unfortunately, this allows others, not always friendly substances (such as alcohol) to appear in the product. When it comes to nutrition and repair, undoubtedly, other preparations available on the market will provide much more professional care to the hair. Furthermore, the mist works more as a hair conditioner rather than an oil. It is not recommended as a specialized treatment on the way to beauty and hair restoration. However, it is a great idea for women who need a "spectacular shoot" to the hair. An immediate improvement in the appearance, condition and shine of hair is guaranteed. Men do not reach for it, because they may feel uncomfortable by the intense, fruity and very unmanly scent… that lasts long on the hair.
However, you cannot deny that this innovative spray provides hair treatment – it can be a great, everyday supplement to professional oils used for oiling. This particular form of the atomizer makes the mist really light and airy. Consequently, it does not weigh it down. Additionally, it contains such ingredients that can easily penetrate into the hair, protecting it from the inside. The product is dry, but does not dry the hair.
The capacity is 150 ml which is, unfortunately, not enough for a long time, especially since it can be used several times a day.
PURPOSE:
The producer indicates that the product is dedicated to dry, brittle and damaged hair. However, any type of hair can benefit from the oil in spray. Its lightweight formula does not weight it down, and therefore even the owners of greasy hair can use the product to provide their hair with shine and healthy appearance. One may only argue over the "repairing"properties of the conditioner, it refers more to "improving" the appearance of hair and hairstyles rather than in-depth regeneration and repair.
DIRECTIONS:
The product can be sprayed on hair before brushing, in order to immediately tame the unruly wisps. It will help with styling and leave a nice, fruity scent.
If, for some reason, the hair has the tendency to an unpleasant frizz throughout the day or lose flexibility, this product will be the remedy. The use of Fructis oil in spray will immediately provide softness, elasticity and shine.
What is more, many bloggers came up with another way of using the product… Simply apply it onto damp hair, immediately after washing. This is a very good patent for ladies who have extremely dry hair.
ADVANTAGES:
innovative product
ultra light formula does not weight the hair down
immediate improvement in hair condition and appearance
taming and styling is quick and easy
beautiful, fruity fragrance
can be used several times a day
DISADVANTAGES:
too high price for such a small amount of product, the amount of the product left is not visible through the bottle
the oils that are used in the product come in a very low amount