Garnier Fructis – Split ends serum
Product Name:
Split ends serum
Rating:
The Garnier company tries to meet the needs of women and their desires of beautiful, healthy, well-maintained, perfect hair. The brand is famous for the use of the power of oils that are beneficial for the hair. One of them, for centuries valued and loved by residents of India, is the oil extracted from Indian Amla seeds. It has been used by the company to create a unique repairing serum for dry and split ends. We are talking about the innovative preparation Split – end serum, a bandage for split ends of extremely damaged hair. Will it manage to work and actually merge the ends of the hair?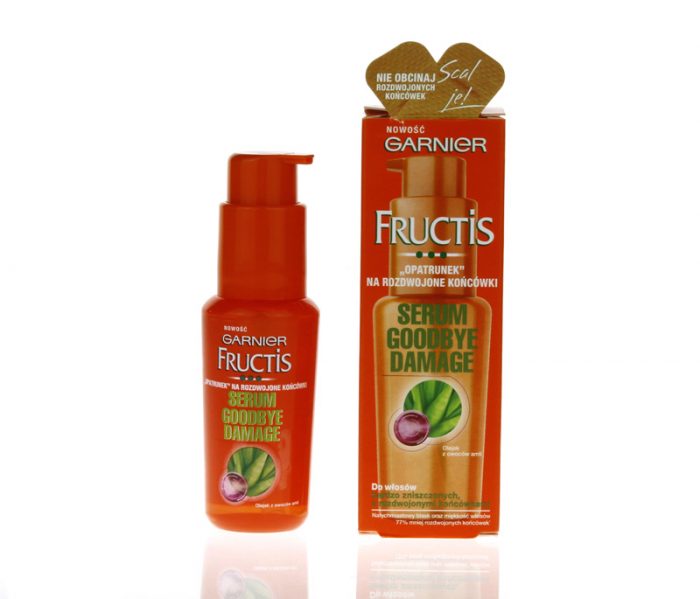 DESCRIPTION:
Each woman pays special attention to the ends of the hair. Splitting and dry ends may give many of us sleepless nights. Sometimes we tend to forget to trim the hair regularly, and the ends immediately begin to break.
Since we are in a constant rush, we tend to forget how much attention and time should be devoted to our hair.
Garnier created a serum that is called "bandage" on damaged ends. It contains precious oils, known for centuries and valued especially in India. We are talking about Amla (Phyllanthus Emblica Fruit Extract), which is extracted from the fruit of the Indian gooseberry. Such oil regenerates, nourishes and moisturises hair, which are gradually becoming resilient and are nourished from the inside. In addition, the oil increases strength and adds a spectacular shine. That Indian treasure provides comprehensive protection and regeneration.
However, the Fructis serum contains a very low amount of this precious oil. It occupies the last place on the list of ingredients. In addition, there are two harmless silicones that have much stronger effects. One of them is called cyclopentasiloxane – a volatile silicone and the base for all components used in the serum. It allows beauty substances to penetrate deeply into the hair and increases their repairing force. Dimethiconol is a polymer composed of organic silica and oxygen. It is a great and very useful ingredient used in hair care products because it makes it soft and flexible. Additionally, it strengthens immunity to any adverse external factors and chemicals, protects the hair against harmful diverse weather conditions. Thanks to all this, your hair stays in good condition and is brilliantly moisturised. It is he who is primarily responsible for the conditioning and protection of damaged ends. Amla oil only slightly helps with the entire process. As a result, the serum protects the ends from damage, and in fact, it works as a bandage for weak hair, but will never "mend" the ends (each hairdresser and cosmetologist admit that it is physically impossible).

Fructis Split Ends Serum should not be treated as a comprehensive protection and care of damaged hair ends. However, it moisturises, creates a protective film and tames hair, and at the same time leaves a very intense, characteristic for the Fructis brand fruity scent, adored by some women and a little underestimated by others. It is recommended to use the serum as a treatment, which can complement the specialized hair care. Therefore, if you have a different hair oil at home – do not give up on it. What is more, Fructis Serum should not be used for a long period time. After finishing the bottle it is recommended to take a few-month, due to the high amount of alcohol that can lead to dry hair.
The packaging of the Garnier serum is very nicely designed: a bottle made of thick, solid plastic, which does not bend in our hands during use. It also has a large and reliable pump. The scent is very intense and consistency actually like a typical oil. The product can be easily spread on the hair. Another advantage of the packaging is also the label – it is not paper, so even if it accidentally gets greasy, it will not begin to peel off.
Finally, a few words about the capacity. There is 50 ml of the product, which seems to be sufficient for a long period of time, its price is therefore quite reasonable.
PURPOSE:
Garnier Fructis Split Hair Serum is designed for all those who do not want to have more split ends and constantly fights with frizzy curls. It will protect your hair from damage and tame it. It also makes it easier to style. However, it is not true that the serum 'sticks together' split ends. It is simply impossible.
DIRECTIONS:
The product should be applied on washed and damp hair. A few drops of the cosmetic is enough to distribute on the hair from the mid length, downwards, focusing on the ends of the hair.
ADVANTAGES:
the use of good, harmless silicone in the product
comprehensive protection
tames hair
nice, fruity fragrance
protection of the hair ends from mechanical injuries
durable packaging with a reliable pump
DISADVANTAGES:
very small amount of amla oil in the product
large amount of alcohol and perfume
will not "merge" the ends as stated by the manufacturer