Gliss Kur Ultimate Color, Bi-Phase Elixir – biphasic spray conditioner for colored hair
Product Name:
Gliss Kur Ultimate Color, Bi-Phase Elixir
Rating:
Another product from the "oil bi-phase" range. A competitive brand – Dove – has launched a very successful version of the two-component conditioner. Will the Schwarzkopf product gain as many followers?
Gliss Kur Ultimate Color Bi-Phase is aimed for special hair care. It is designed to bring out the beauty of colour-treated hair and take care of each wisp.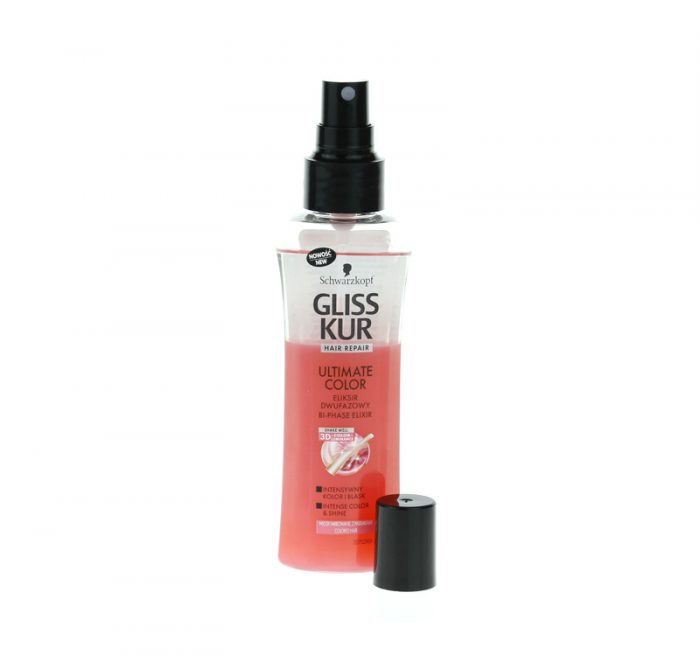 DESCRIPTION:
The conditioner comes in a clear bottle with an atomizer. Thanks to this feature, the use is quick and easy. It is a very fascinating look because you can clearly see the two phases of the product separated from each other. (lighter one floats at the surface while the dense one of an intense pink colour is heavier, so it stays at the bottom of the preparation).
Bi-phase conditioner is a perfect product to use during summer. It does not weight the hair down. The lighter part is easier absorbed, therefore, instantly provides a proper protection for the hair. The phase responsible for smoothing and taming, stays on the surface of the hair. What is more, it also enhances its colour. The conditioner contains only one oil, apricot kernel (Prunus Armeniaca Kernel Oil). Although, it appears on the sixth place on the list of components, it is a very valuable oil and its effects should not be diminished.
It is an oil that contains an extremely strong concentration of fatty acids and vitamins. Apricot kernel oil provides powerful moisturising and nourishing properties, which in fact, are an essential point in the care of dyed hair. It has a remarkable ability to penetrate into the cells of hair, without leaving an oil film on the surface. Due to the separation of the lighter phase of the product, in which the oil dominates – we have an additional assurance that the interior of the hair is quickly penetrated by the maximum amount of components contained in the Color Ultimate Bi-Phase conditioner. What is more, colour-treated hair requires exceptional protection, because it has the tendency to loose moisture, dry, and even become frizzy at the ends. Consequently, the colour gradually fades. Therefore, hair losses its shine and condition.
Gliss Kur Ultimate Color Bi-Phase surely provides hair with what it needs after dyeing: nourishing, strengthening, regeneration and hydration and enhancing the colour.
PURPOSE:
Gliss Kur Ultimate Color Bi-Phase is designed for colour-treated hair. 3D-Colour-Luminance Technology immediately revives hair colour and highlights individual strands of the hair.
DIRECTIONS:
The product should be shaken before use and sprayed on damp hair immediately after washing it. In order to emphasize the brilliance and colour of hair even more, apply the product on dry hair, just before styling.
ADVANTAGES:
a bi-phase formula that increases the effectiveness
apricot kernel oil used in the conditioner
provides a beautiful shine and deep colour to dyed hair
as light as a mist, does not weigh the hair down
very easy to use
the effect of the precipitation of the two phases of the preparation looks impressive
DISADVANTAGES:
Attention to alcohol in the composition, there is quite a lot of it