Isana Profesional, Haarol Oil Care
Product Name:
Haarol Oil Care
Rating:
Isana is a German company that quickly became popular, mainly in Europe, due to the attractive prices of their products. The cosmetics are inexpensive and often do not differ much from the quality of the competition. It is worth remembering that high price does not always mean high quality. It has been proved by a famous stylist Gok Wan, who invited, a group of women to his program, giving them diverse price range cosmetics to test their effects. Nobody knew who the manufacturer was or the name of the brand of the products. The results were surprising. Cheap products often won against the high-end ones.
Isana keeps up with the latest news and closely observes trends in cosmetics. Due to the popularity of essential oils designed for hair care, the brand released its product: Haarol Oil Care. Will it meet the expectations of all women?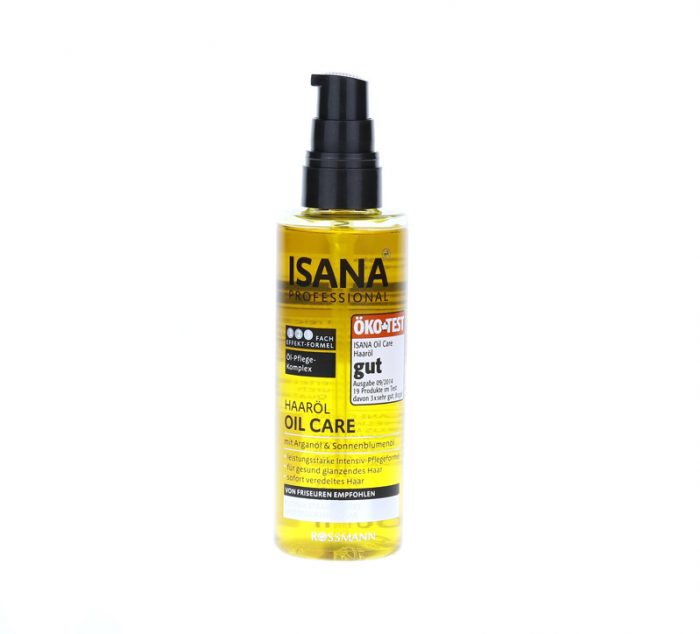 DESCRIPTION:
Isana Haarol Oil Care is a remedy for strongly damaged and dry hair. It contains a high concentration of two great oils.
– Sunflower (Helianthus Annus Seed Oil / Sunflower Seed Oil), an oil which moisturise your hair and take care of the ends; great for all those who have dry and brittle hair with a tendency to fall out. It regenerates hair and increases its flexibility. It contains linoleic acid belonging to the omega – 6 regulates and improves processes inside the cells of the hair.
– Argan Oil (Argania Spinosa Kernel Oil) – protects the hair from wind, sun and frost. Protects and regenerates the fibres of the hair. It nourishes dry and damaged strands. It contains a lot of natural vitamin E, called the "Vitamin of Youth." It is rich in essential fatty acids Omega 3, 6 and 9.
Isana Haarol Care Oil is quickly absorbed into the hair and leaves no greasy film on the surface.
The struggle for beautiful hair takes place inside. Oils regenerate, nourish and strengthen the fibres. According to the manufacturer, this oil can even deal with very dry and damaged hair. What blogger and vloggers have to say about this? Opinions are divided. Some of the ladies are full of delight and talk about impressively shiny hair, while others focus on the long-term effects, arguing that the hair is not moisturised and "repaired" to the expected level. However, it is a common opinion that the product is suitable for the care of hair ends. In this regard, it is almost irreplaceable, and outperforms even the more expensive, branded products. What is more, it also works well as a product finishing hairstyles. It tames hair, adds shine and emphasises certain layers.
Isana Haarol Oil Care has the consistency of an amber oil. It is quite dense. Unfortunately, too much product can weigh the hair down, therefore it must be properly dosed. It ensures a pleasant and intense scent. This is thanks to a multiple fragrances, which, unfortunately, are alcohol-based. The producer could have reduced their amount.
The capacity of oil is high, as much as 100 ml. It is a lot of product for an affordable price. Isana Haarol Oil Care is equipped with a pump, which makes dispensing the product very easy. The pump has a cavity and is lined, thanks to which, the finger does not slip when pressing it.
PURPOSE:
The cosmetic is especially designed for women who cannot cope with dryness and brittleness of their hair. It takes care of the ends of the hair, moisturise and nourish it. It can be used daily or before each wash.
DIRECTIONS:
Oil should be used similarly to other products of the same type:
Before washing, to provide intensive care (2-3 servings applied on the hair will be enough).
After washing, on damp, towel-dried hair to protect it, strengthen and moisturise.
On dry hair, leave-in, without rinsing as styling finish
ADVANTAGES:
argan oil, sunflower and at a high concentration
use of non-comedogenic silicones, which protects the hair and makes it velvet.
a nice scent, intense and sweet
large capacity
well-designed pump
DISADVANTAGES:
a large amount of alcohol
contains small quantities of potential allergens