John Frieda, Sheer Blonde. Brightening oil elixir with sunflower oil
Product Name:
Sheer Blonde
Rating:
When John Frieda opened its first boutique, nobody expected that the company would achieve international success. Presently, it is chosen by professional hairstylists and celebrities. The brand sets trends in hair styling and care. John Frieda conditioning oils has been created with great care. Sheer Blonde Oil is exceptionally popular among women. Why?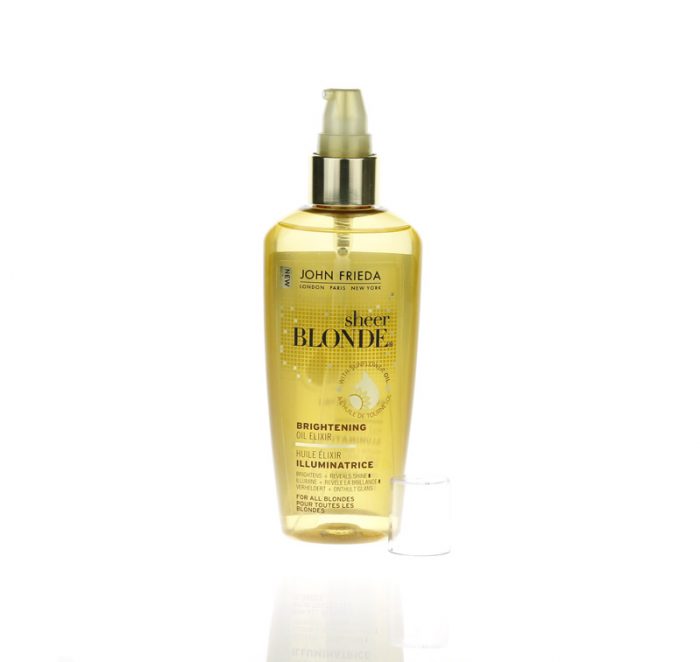 DESCRIPTION:
Natural hair oils usually have similar ingredients (diversity of vitamins and UFA) and similar performance. Their main task is to repair and protect hair, enhance the processes inside the hair and cure damaged strands.
Some oils may slightly darken very light hair or make its colour yellow. We should remember that most oils are extracted from nuts which have strong colouring properties. It is great for brunettes but for blondes it is … a tough nut to crack. Choosing the oil can be a bit risky in case of women with light hair. After longer use hair might get a different shade.
John Frieda has decided to tackle the problem and created Sheer Blonde Oil – Brightening Oil Elixir designed exclusively for blonde hair.
The oil's task is to bring shine and radiance to light hair. It offers regenerating properties. The oil makes strands look healthy and brightens hair. Internet users are enthusiastic about the product and name it "miraculous elixir" and "sun captured in the bottle". John Frieda guarantees that the cosmetic is going to change our life.
Sheer Blonde contains two high quality oils: sunflower seed oil (Helianthus Annus Seed Oil/Sunflower Seed Oil) and argan oil (Argania Spinosa Kernel Oil). They are ideal for lightened hair as they provide effective regeneration and prevent dryness and frizz. Due to intense lightening, blonde hair is much more exposed to dryness and damage of hair structure. Sheer Blonde delivers optimal protection inside and outside the hair – takes care of the colour and gently lightens strands.

Argan oil has been created by nature for women who like to undergo invasive hairstyling treatments. It won't let ammonia included in hair dyes destroy our hair.
It takes care of hair condition and suppleness; prevents dryness and fights off brittleness.
Sunflower oil reduces frizz, moisturises and smooths. It brings hair beauty and shine as well as slows down hair ageing and provides it with comprehensive protection from sun, wind and frost.
Sheer Blonde Oil is quite runny but 100 ml capacity guarantees that the oil will hold out long. The bottle is nice and aesthetic with a golden pump which runs smoothly.
PURPOSE:
The oil is exclusively for light hair. It is meant to provide full care and repair of blonde strands. It is also suitable for women with highlights. The oil provides amazing radiance and doesn't let hair get yellow or darkened. It defines blonde shade on hair.
DIRECTIONS:
Apply the oil to damp hair after washing; no need to rinse. It can be applied to ends of dry hair.
ADVANTAGES:
power of two exceptional oils
effective and reliable
beautiful, exclusive fragrance
immediate effects of brightened hair
easy application
doesn't weigh hair down
DISADVANTAGES:
many silicones among the ingredients