KALLOS Cosmetics, LAB 35, Indulging Nourishing Hair Oil for Hair Ends
Product Name:
LAB 35, Indulging Nourishing Hair Oil for Hair Ends
Rating:
Kallos in a Hungarian brand which has been acting on the market since the 70s. It has been created by John Kallos and developed by his two daughters. The company's products are appreciated in many European countries. Indulging Nourishing Hair Oil for Hair Ends is worth mentioning.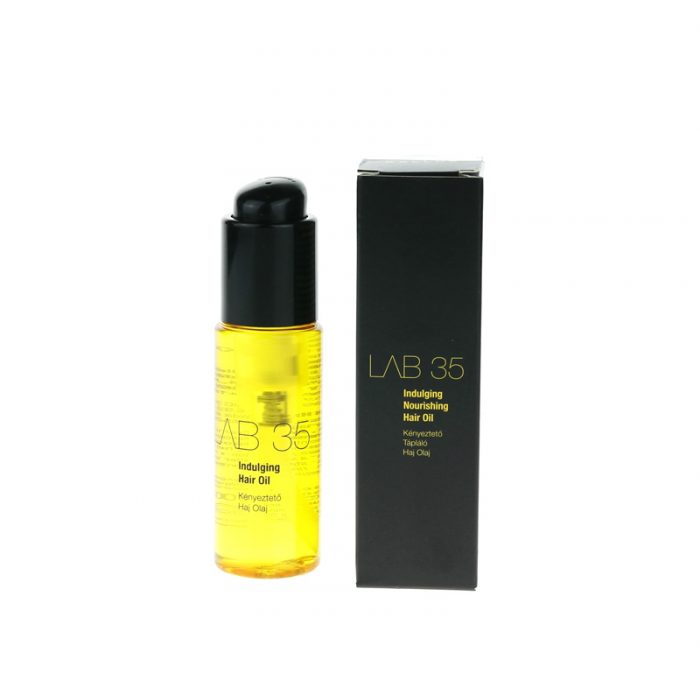 DESCRIPTION:
Indulging Nourishing Hair Oil contains a diversity of natural conditioning oils:
argan oil (Argania Spinosa Kernel Oil) – perfect for hair damaged due to various hairstyling treatments (dyeing, lightening, straightening, blow-drying). It provides effective protection from unfavourable weather conditions. It prevents water loss, moisturises and adds shine.
avocado oil (Persea Gratissima Oil) – contains a wide array of group B vitamins, therefore prevents brittleness. It also offers numerous minerals (magnesium, manganese, iron, phosphorus, potassium, sodium, zinc). They provide proper hydration in hair ends and prevent splitting. It is rich in omega-6 and omega-9 acids which strengthen natural protective hair barrier.
coconut oil (Prunus Amygdalus Dulcis Oil) – similarly to avocado oil, it contains a high concentration of minerals. It closes hair cuticles thus hair becomes shiny and soft whereas the ends don't split. It also delivers essential proteins.
sunflower oil (Helianthus Annus Seed Oil/Sunflower Seed Oil) – deals perfectly with dry hair ends; nourishes, moisturises and brings shine.
linseed oil (Linum Usitatissimum Flower Extract) – contains a large amount of vitamin E which is a natural antioxidant. Therefore it slows down ageing processes. Moreover, the oil is abounding in valuable omega-3, omega-6 and omega-9 fatty acids. Their shortage weakens hair structure thus hair becomes thin and brittle.
olive oil (Olea Europaea Fruit Oil) – offers regenerating and moisturising properties. It adds shine to dull hair. It is recommended for normal porosity hair. It contains natural sunscreen. It is suitable for damaged and weak hair. It doesn't weigh hair down and controls frizzy ends.
macadamia oil (Macadamia Ternifolia Seed Oil) – it is great for oily hair as it doesn't leave greasy layer or weigh down hair. It penetrates deep into hair and fulfils its requirement for oleopalmitic acid – omega-7 acid which has qualities similar to the sebum produced by our organism. It strengthens and creates a protective barrier on hair.
LAB 35 Oil is supposed to help in the reconstruction of the damaged hair structure. Surely, it is guaranteed thanks to the power of natural oils. The oil moisturises and deeply nourishes brittle and dry ends.
It is extremely efficient because it is applied exclusively to hair ends. The bottle containing 50 ml of the product will hold out several months.
The cosmetic has a very intensive, sweet fragrance characteristic for oils. The bottle has a big pump that runs smoothly.
The bottle is narrow and very handy.
Small amount of silicones is also positive. The ones that are included in the oil won't do harm to your hair.
PURPOSE:
The oil serves one purpose: regenerates and nourishes dry and damaged hair ends. It is designed for all hair types. However, women with light strands should use it moderately because LAB 35 Oil contains avocado oil which may slightly change hair colour.
DIRECTIONS:
It can be applied to dry or damp hair. There is no need to rinse it. LAB 35 should be applied to hair ends. 1-2 portions of the preparation will be enough. It will be a great addition to every-day hair care.
ADVANTAGES:
diversity of natural oils
nice, intense scent
dense and efficient
easy to apply
handy bottle
immediate effect of shiny hair ends
DISADVANTAGES:
may slightly change hair colour of very light hair