Kerastase Elixir Ultime Cheveux Fins et Sensibilises – oil for thin, delicate hair
Product Name:
Elixir Ultime Cheveux Fins et Sensibilises
Rating:
Kerastase products derive from the L'Oreal brand and are considered one of the most prestigious cosmetic lines when it comes to hair care and styling. It exists on the market since 1964, and its laboratories employ more than 700 scientists from around the world. All products must pass thorough analysis in composition and effectiveness. Kerastase series is loved by hairdressers and stylists around the world. The company's offer includes a wide range of hair care oils. Elixir Ultime Cheveux Fins et Sensibilises – oil for thin and delicate hair is definitely worth mentioning.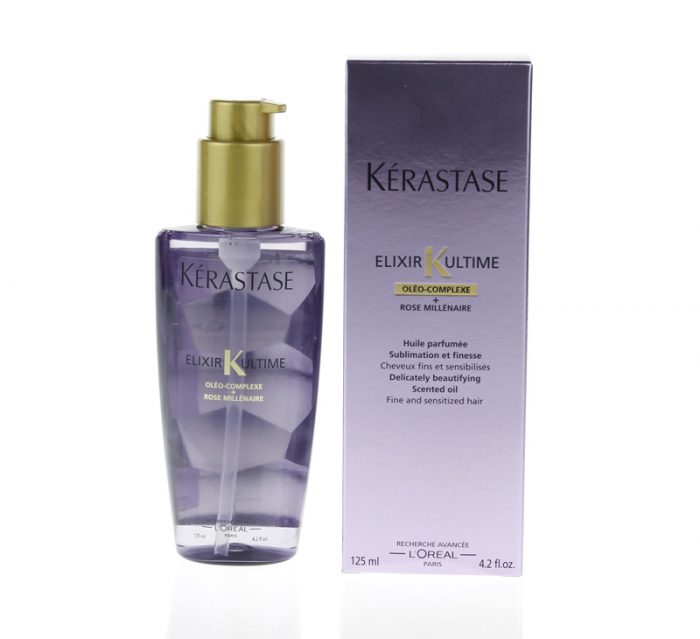 DESCRIPTION:
The oil for thin and fragile hair has a beautiful packaging. It is locked in a lilac, plastic bottle with a capacity of 125 ml. It is very efficient. The bottle is transparent and the rear sticker with shiny geometric patterns is visible through the purple plastic. When looking at it through the front wall of the cosmetic, we get a three-dimensional effect. This makes the impression of the surface of the hair with shiny and well-maintained scales. The whole packaging looks very impressive and promises the effects that we get by using Elixir Ultime Cheveux Fins et Sensibilises.
Kerastase elixir contains up to four oils.

Corn oil (Corn Oil) – provides softness and shine. It is rich in unsaturated fatty acids (oleic and linoleic). They will ensure proper functioning of the cells of the hair. Ideal for sensitive skin due to its soothing effects.
Argan oil (Argania Spinosa Kernel Oil) – nourishes hair very effectively. It also protects against adverse external factors such as wind, frost or harsh sun. What is more, it protect hair fibres against damage during daily treatments: strong rubbing with a towel, blow-drying, straightening, pulling.
Oil camellia (Camellia Oleifera Seed Oil) – smooths hair fibres very effectively, gives them lustre and conditions. It is ideal for fine and damaged hair. It will smooth even very rough, high porosity hair.
Oil pracaxi (Pentaclethra Macroloba Seed Oil) – penetrates deeply into the hair and nourishes it. Moreover, it moisturises, giving it softness and shine.
Another component of Kerastase oil is the extract of rose (Rosa Canina Flower Extract), which provides a very good protection for fine hair. It also has a filter to protect against harmful UV radiation. The product also contains harmless silicones that will protect the hair ends and smooth without disrupting their structure with a greasy, hard to penetrate build- up.
The oil has a light texture and contains a lot of nutrients. Unfortunately, it contains a lot of alcohol which can dry the hair. One can say that it interferes with the effects of the oils.
Even the scent of the product is very intense and unfriendly. In addition, it suppresses other fragrances of the product. Fortunately, after the use of the preparation, the scent evaporates from the hair. Then, you can feel the delicate, sweet aroma. The product is highly efficient, and the pump, which it is equipped with, allows a comfortable application.
It has a light consistency, absorbs quickly and instantly conditions the hair. The effect of brilliance and resilience is guaranteed after the first use.
PURPOSE:
Keratase Elixir is designed for treating and nourishing delicate and fragile hair. It is designed not only to deeply nourish and regenerate it but also build a protective barrier on the surface and in the interior of the hair. It may be an additional complement of other hair care products. As a standalone product could do more harm than good. Especially after a long-term use, alcohol will dry your hair.
DIRECTIONS:
The product can be used both on wet and on dry hair. Before washing, it will act as a nutritional treatment, however, after washing, as a protection from the hot air of a blow-dryer. Additionally, it will improve the process of styling. Used during the day, it will tame the hair and add lustre.
ADVANTAGES:
a large number of oils
efficient
lightweight formula does not weigh the hair down
adds lustre
impressive packaging
easy application
DISADVANTAGES:
too much alcohol
unpleasant scent