Kerastase Elixir Ultime, Oleo-Complexe, All Hair Types
Product Name:
Elixir Ultime, Oleo-Complexe
Rating:
Kerastase Elixir Ultime, Oleo-Complexe oil for all hair types is a version of a purple Cheveux Fins et Sensibilises for sensitive and delicate hair. What are the properties and performance of Elixir Ultime Oleo-Complexe?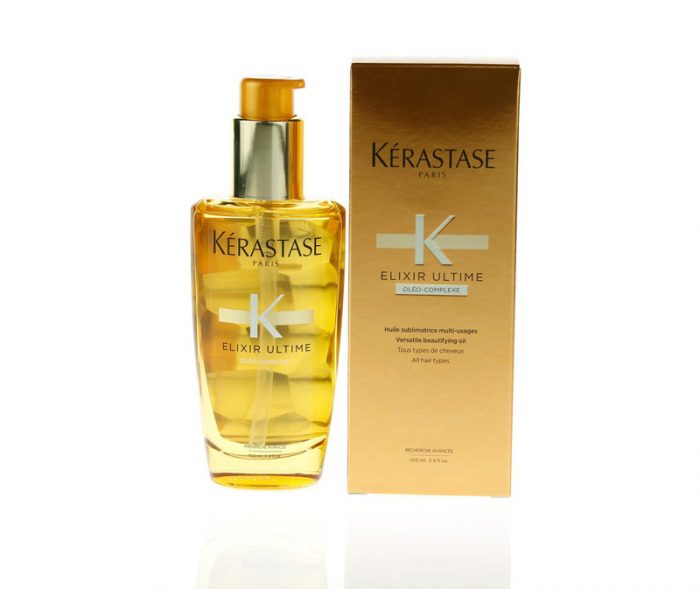 DESCRIPTION:
Elixir Ultime Oleo-Complexe for all hair types has almost the same ingredients as its purple version designed for delicate hair. It comes in a gold and orange glass bottle and offers a bit smaller capacity – 100 ml.

The elixir contains four conditioning oils.
Corn oil – softens hair, slows down hair ageing and provides it with natural and healthy shine.
Pracaxi oil (Pentaclethra Macroloba Seed Oil) – effectively and deeply nourishes hair; strengthens and protects it from unfavourable external factors. It provides ideal protection in every weather and season.
Camellia oil (Camellia Oleifera Seed Oil) – smooths the structure of hair as it closes hair cuticles quickly and effectively; moisturises and delivers shine. It nourishes and regenerates even most damaged and thin hair.
Argan oil (Argania Spinosa Kernel Oil) – offers strong moisturising properties, strengthens hair structure. It protects hair from hot airflow of the dryer, flat iron, tearing and pulling, backcombing).
Elixir Ultime, Oleo-Complexe is almost alcohol-free. Natural oils play the primary role in the product. It is ideal for every-day hair care. It is denser than its purple and full of alcohol version for delicate hair. It offers a pleasant, slightly oriental and sweet scent. Sadly, it is less efficient than Fins et Sensibilises oil. On the other hand, it is safer as it doesn't make hair dry.
The oil has been created with great care and consideration for hair. There is a hologram sticker on the packaging which depicts shiny, beautiful and closed hair cuticles.
The pump runs smoothly and allows for the precise dosing of the honey oil.
Well done, Kerastase.
PURPOSE:
The oil is designed for all hair types. It can be used as protection of healthy hair or intensive repair for dry, damaged and unruly strands. It will also help dull hair by giving it shine and bounce.
DIRECTIONS:
It can be applied before washing as well as to damp, towel-dried hair right after washing. You can also use it after blow-drying to hair ends only.
Depending on the type and the condition of your hair, you can use all three methods of application or choose one that suits you best.
ADVANTAGES:
diversity of precious oils
almost alcohol-free
beautiful and fancy packaging
does not weigh hair down, it is almost fully absorbed
easy application
nice fragrance
DISADVANTAGES:
inefficient
high price in comparison with other oils
the bottle is beautiful and fancy but it may slip out of your hands and break