Khadi, Natural Products, Ayurvedic Hair Oil, AMLA
Product Name:
Natural Products, Ayurvedic Hair Oil, AMLA
Rating:
Khadi is famous for natural, 100% vegan and cruelty-free products. This Indian company knows perfectly well how to create oils and make use of the philosophy and wisdom of the East. It is unrivalled when it comes to oriental, well-known and appreciated for ages Ayurvedic rituals. The brand's products are the part of a larger Indian concern – Nitai. They are ecological, free from parabens, mineral oil and synthetic dyes and what is the most important – children do not take part in their production. The packaging is also eco-friendly and can be recycled. Khadi Amla Oil protects every hair type from damage.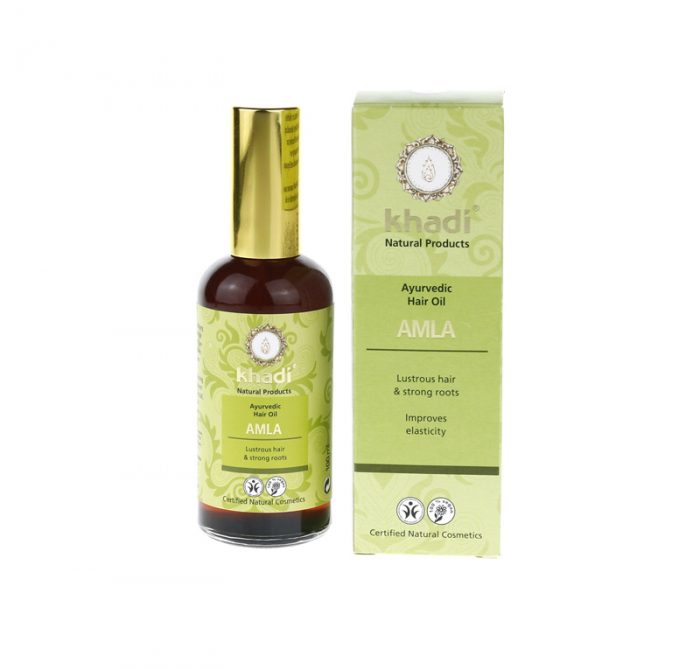 DESCRIPTION:
The basic ingredients of Khadi Amla Oil are two oils: Eclipta Alba (Bhringraj) and Emblica Officinalis (Amla). It also contains sunflower and almond oils. They all make a perfect basis for the natural herbs included in the product.
Bhringraj oil – stimulates circulation in the scalp and fights various scalp conditions including dandruff and excessive sebum production. It strengthens hair follicles and regenerates hair ends very well. It contains sunscreen.
Amla – hair oil that has been well-known and appreciated in oriental medicine for ages. It makes hair strong and improves its resilience as well as helps it to keep young look. What is more, it provides shine and nourishing from the roots to the ends. It will not let hair fall out but instead it will make it grow stronger every day.
Sunflower oil (Helianthus Annus Seed Oil/Sunflower Seed Oil)– prevents dry hair, smooths strands.
Almond oil (Prunus Amygdalus Dulcis Oil)– the source of vitamins A and E which help hair stay young. The oil keeps hair bouncy and resilient.
Khadi Ayurvedic Hair Oil brings hair natural shine and softness. It prevents split ends and forces hair to grow faster. It will even tackle troublesome chronic dandruff. It regulates sebum production on the scalp thus enhances hair growth. Surely, one of the Khadi oil's assets is that it takes care of the scalp. Therefore, it provides extraordinary treatment which fights various hair problems – from the roots to the ends. It is full and comprehensive recovery.

The oil comes in a pretty 100 ml bottle decorated with oriental patterns. It is efficient as only one teaspoon of the oil is needed in the treatment. The pipette makes the application much easier. Sadly, it sometimes gets stuck in the gold cork included in the packaging.
The fragrance is very oriental thus may be irritating. However, when the oil is applied to hair, the scent becomes less intense and changes into a pleasant fragrance of incense sticks.
PURPOSE:
Khadi Ayurvedic Hair Amla oil is designed for all hair types; for weak and damaged hair in particular. It will suit also dyed hair and hair with highlights. Women with very light hair should be careful – the oil may slightly change hair colour. It is perfect as a regular nourishing treatment and should not be used on a daily basis.
DIRECTIONS:
Two hours before hair washing, massage one teaspoon of the oil to the hair and the scalp. The pipette measures out more or less 5 ml of the oil (one teaspoon). If your hair problem is really troublesome, you can rub the oil in your hair and scalp and leave for the whole night. Khadi Ayurvedic Hair Amla should be applied 2-3 times a week.
ADVANTAGES:
well-chosen oils
lots of herbal, natural ingredients
good absorption, doesn't weigh hair down
fully ecological
cruelty-free
efficient
DISADVANTAGES:
very strong, oriental fragrance
the pipette may get stuck in the cork