Khadi, Natural Products, Pure Ayurvedic Vitalising Hair Oil
Product Name:
Natural Products, Pure Ayurvedic Vitalising Hair Oil
Rating:
Nitai company, which distributes Khadi products, was founded in 2007. The passion for healthy lifestyle and the fascination with the Orient resulted in the creation of the company. Khadi prides itself on being appreciated by women all over the world. It is perfect for anyone who seeks products based on natural and traditional recipes. 100% vegan and cruelty-free hair oils deserve our special attention. Oil stimulating hair growth arouses interest.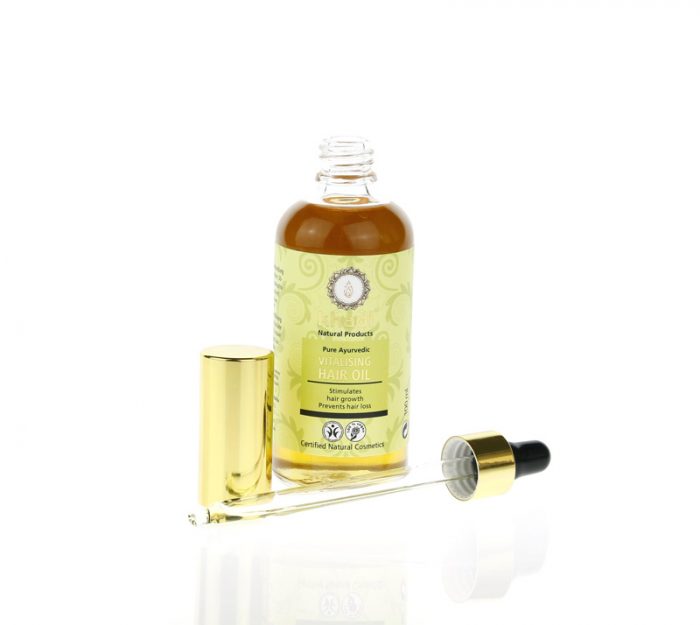 DESCRIPTION:
The oil has been created on the basis of high quality oils, including sesame, coconut, bhringraj, brahmi, castor, amla and carrot seed oils. Also, Khadi oil contains lots of plant extracts which stimulate and enhance hair growth for example butea flower extract, Bockshornklee extract, rosary pea (Abrus precatorius), Citrullus Colocynthis (Koloquinthe) – colocynth.
Sesame oil (Sezamum Indicum Seed Oil) – irreplaceable when you fight for beautiful hair. It prevents dryness, provides shine and deeply nourishes. It soothes the scalp, protects from harmful sun and high temperatures. It creates a protective layer on the hair surface and supports hair growth.
Coconut oil (Cocos Nucifera Oil)– rich in vitamin E, good fatty acids which fight off free radicals. Minerals help to rebuild hair structure. The oil closes hair cuticles thus makes them smooth and resilient.
Bhringraj oil – speeds up hair growth, prevents hair loss, protects the scalp.
Brahmi oil (Bacopa monnieri) – popular as an ingredient of products to treat hair loss.
Castor oil (Oleum Ricini, Oleum Palmae Christi) – provides shine, may darken hair, stimulates its growth.
Rosemary oil (Oleum Rosmarini Officinalis) – stimulates hair growth, has antibacterial and antimycotic properties.
Amla oil (Emblica Officinalis) – nourishes hair and scalp as well as prevents premature greying; provides hair with shine and strength; protects from skin infections, removes dandruff, stimulates hair growth, prevents its loss.
Carrot seed oil (Daucus Carota Seed Oil) – protects from UV radiation, contains beta carotene, evens skin colour, protects from the action of free radicals, nourishes hair.
The oil strengthens and nourishes even extremely damaged hair, prevents hair loss. It makes strands grow faster and keeps them from premature greying. The oil has BDIH certificate which guarantees that it is eco-friendly. It comes in a nice glass bottle with a big glass pipette.
The oil has a highly intensive herbal and oriental scent which slightly resembles anise. 100 ml product is very efficient because only one teaspoon of the oil is used in the treatment.
PURPOSE:
The oil provides falling out, weak and brittle hair with specialized care. Most of all, it stimulates hair growth and should be used as a treatment performed 2-3 times a week. It shouldn't be used for styling or taming frizzy hair.
ADVANTAGES:
very effective to treat hair loss
fights off dandruff in a fast and effective way
stimulates hair growth
efficient
doesn't cause oily scalp or weighed down hair
DISADVANTAGES:
very strong fragrance which may not appeal to everybody
narrow circle of users (it is not for everyone)