L'Oreal Elseve, Magic Power of Oils, Oil-in-Cream
Product Name:
Magic Power of Oils, Oil-in-Cream
Rating:
L'Oreal doen't offer exclusively conditioners which work like hair oils.
Being aware that not every woman is a fan of hair oiling, the brand has created an oil offering completely different consistency. Oil-in-Cream has been devised for women who dislike greasy products. It combines the action of a conditioner with the power of natural oils.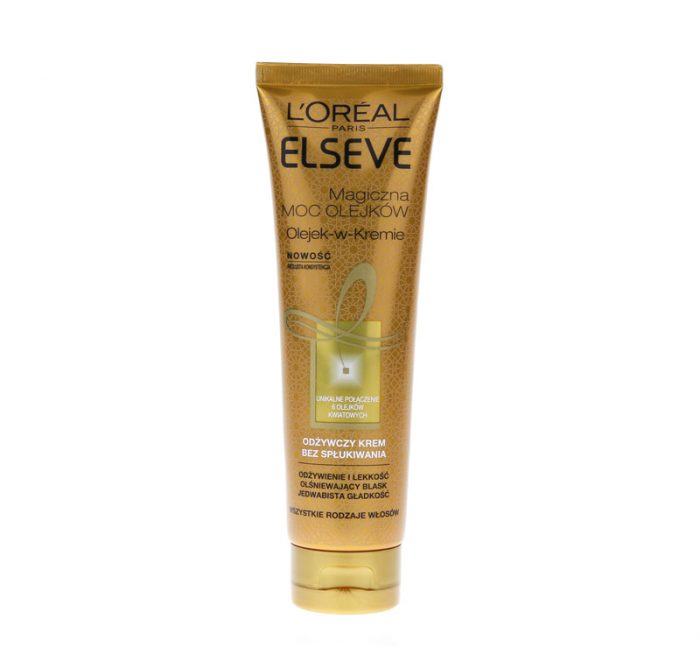 DESCRIPTION:
Name "Oil-in-Cream" reflects the features of the product perfectly. It is a cream which combines the properties of an oil and hair conditioner. The product contains large amount of the oils.
camomile oil (Chamomilla Recutita Extract / Matricaria Flower Extract) – enhances shine and provides suppleness
sunflower oil (Helianthus Annus Seed Oil/Sunflower Seed Oil) – strongly nourishes hair
linseed oil (Linum Usitatissimum Flower Extract) – intensively moisturising properties
lotus flower oil (Nelumbium Speciosum Extract) – provides great suppleness
rose oil (Rosa Canina Flower Extract) – conditions hair very well
Tahitian Gardenia oil (Gardenia Tahtensis Flower Extract) – prevents hair from getting dry and frizzy. It closes hair cuticles and gives them smoothness.
Moreover, Elseve Oil-in-Cream contains lots of coconut oil (Cocos Nucifera Oil) which closes hair cuticles and protects them as well as enhances their shine.
Magical Power of Oils, Oil-in-Cream is almost identical version of Nourishing Smoothness and Shine Elixir – the consistency is different. The ingredients are a bit different – worse in a cream oil version. The cosmetic contains more alcohol than its "oily" version. The product comes in a 150 ml tube. It is inefficient, though. It holds out over a month. The tube has a very nice design – metallic and shimmering copper colour. It is made from a soft and elastic plastic which guarantees making use of the whole conditioner. It is extremely easy to squeeze the cosmetic out of the tube. The hair cream has a light and slightly runny consistency. Sometimes, it gets out of the tube before we apply it to our hand. Dosing is not easy. A container with a pump would be a much better idea. Elseve Oil-in-Cream is absorbed in the hair easily and doesn't leave greasy layer. It has an intensive scent, many women say it resembles perfume for men. However, the fragrance is not long-lasting and becomes delicate and a bit exotic.
Oil-in-Cream arouses various emotions among Internet users. Some of them call it a sensation which perfectly moisturises and tames hair. Others are irritated and believe that traditional oils give better effects.
Generally, the product is a great addition to other, classical oils.
PURPOSE:
Oil-in-Cream is designed for all hair types. Thanks to its creamy consistency and good absorption, even women with oily hair will like it. It is a good addition to other, more professional preparations.
DIRECTIONS:
The oil is characterised by the versatile applications:
It can be applied to damp hair (no rinsing). It provides hair with nourishing, shine and suppleness.
Prior to blow-drying to protect hair from hot airflow.
Applied to dry hair – before morning hairstyling to tame it, nourish and add shine. It also helps to detangle extremely dry and tangled ends.
ADVANTAGES:
innovative cream formula
a lot of oils among the ingredients
lightweight formula
very nice packaging
versatile application methods
DISADVANTAGES:
large amount of alcohol
impractical tube which makes the application of a runny cream more difficult