L'Oreal Elseve. Magic Power of Oils. Restoring Elixir
Product Name:
Magic Power of Oils. Restoring Elixir
Rating:
L'Oreal has taken a liking to the power of natural conditioning oils. If it launches a product containing oils, we can be sure that it is abounding in them. It is another one in the collection of L'Oreal Elseve oils. However, this one is not exclusively for dyed hair – it offers strong regenerating and nourishing properties which serve weak and damaged hair with splitting ends.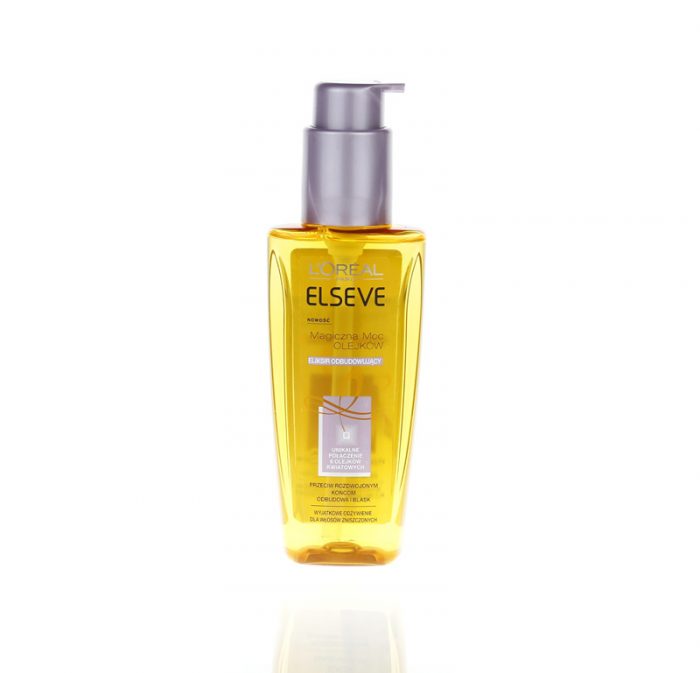 DESCRIPTION:
The product is full of well-suited flower oils which have been chosen to complement each other and regenerate even most damaged hair which needs immediate help.
linseed oil (Linum Usitatissimum Flower Extract) – nourishes fast and effectively; protects from premature ageing; hair stops to fall out. It is irreplaceable for dry, brittle and damaged hair.
camomile oil (Chamomilla Recutita Extract / Matricaria Flower Extract) – it is supposed to add shine and suppleness to your strands.
lotus flower oil (Nelumbium Speciosum Extract) – penetrates into hair fibres where it nourishes and rebuilds the strands. It provides very good protection from negative effects of the environment.
tahitian gardenia oil (Gardenia Tahtensis Flower Extract) – has purifying properties; helps to get rid of toxins and harmful substances from the inside of hair. It moisturises and nourishes.
rose oil (Rosa Canina Flower Extract) – restores hair elasticity, strengthens hair fibres, improves hair condition.
The manufacturer provides almost instant restoration and spectacular make-over of dry, brittle and damaged hair. The oil repairs and rebuilds hair fibres. If yours have lost shine and your hair ends become frizzy – you must try out this preparation. It receives only positive opinions among Internet users. Women write about the product on the Internet forums and call it "wonderful elixir" and "ideal". It doesn't make hair oily or weighed down. It is very efficient and the application is comfortable. It has a very nice fragrance which stays on hair for a long time.

Among the ingredients there are harmless silicones which won't do harm to our hair.
The only drawback may be alcohol – its large amount is disappointing.
The bottle houses 100 ml of the oil and according to women who have used it, it holds out 4-6 months. Restoring Elixir looks really nice. It has a warm amber colour. The pump is lilac and runs very smoothly; you can use up even the last drop of the oil.
PURPOSE:
The oil is designed for all women who have extremely damaged hair – it allows for fast and effective restoration. It can be used as a treatment or on a daily basis to protect and tame the strands. It also works for women who have healthy hair but want to give it comprehensive protection.
DIRECTIONS:
The oil can be used in three ways:
Applied to damp hair, preferably after washing. It will protect hair from the hot airflow of the dryer and mechanical damages. It will make styling easier as well.
Applied to dry hair – before washing. It is a good idea to leave the oil for 10 minutes and then wash hair. We will be sure that our hair is nourished but not weighed down.
As a finishing touch in every-day styling – hair gets shine and protection.
ADVANTAGES:
power of six conditioning oils
immediate nourishing and shine
regenerates hair, effects can be observed after several uses
nice intense flowery scent
quite large capacity, efficient
reliable pump
DISADVANTAGES:
large amount of alcohol which can cause dryness after long use