L'Oreal Elseve. Magical Power of Oils. Beautifying Elixir
Product Name:
Magical Power of Oils. Beautifying Elixir
Rating:
When it comes to including natural oil extracts in hair products, L'Oreal doesn't fall behind. It has quickly launched an oily and amber serum which serves the beauty of dyed hair and highlights.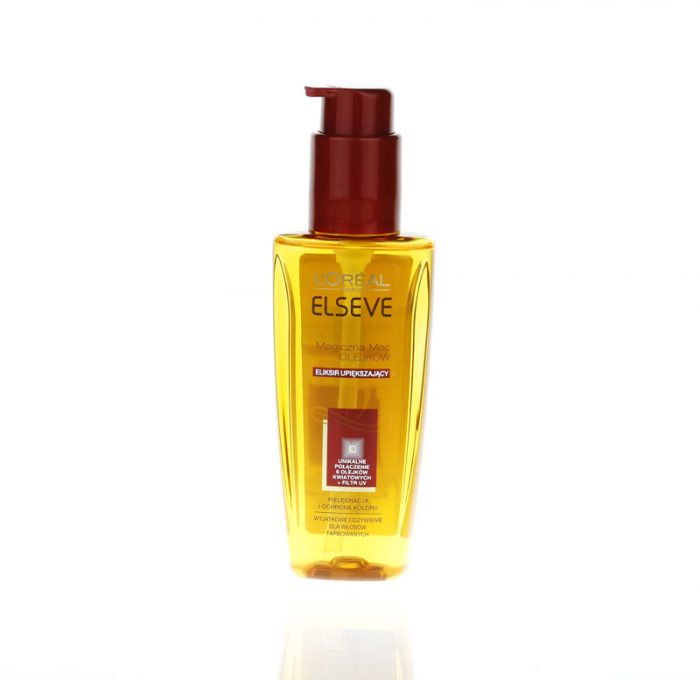 DESCRIPTION:
The brand trusts the power of flowery oils. The serum contains camomile extract (Chamomilla Recutita Extract / Matricaria Flower Extract) which is rich in vitamin C, has strong regenerating properties and fights off free radical – in other words it slows down the effects of ageing. Lotus flower extract (Nelumbium Speciosum Extract) helps hair cuticles to regenerate, moisturises and nourishes. Another wonderful and astonishing oil is MONOI (Gardenia Tahtensis Flower Extract) – unique and unusual oil, know in Tahiti for ages. Polynesian women claim that they owe their beautiful hair and complexion to this very oil. It is an unusual oil as it is a combination of two ingredients: tahitian gardenia flowers are soaked in equally valuable base (cold pressed coconut oil). The making of MONOI oil is in Tahiti a true ritual: flowers are picked in the morning and wrapped in gardenia leaves in order to protect them from the sun. Hard-and-fast number of flowers is soaked in an appropriate amount of palm essence for a given number of days. The precipitating of the flowery extract enriches the coconut oil with some extra properties. It is like being presented with a super power by nature. MONOI moisturises, protects from the sun, regenerates, enhances hair strength and resilience. It brings lots of benefits to dry hair with splitting ends as it rebuilds hair structure, closes cuticles and protects from strong chemical products and damages.
Wild rose oil (Rosa Canina Flower Extract) is an irreplaceable antioxidant (sometimes called "oil of youth"). It is abounding in beneficial fatty acids and numerous minerals; moisturises and smooths hair. It hinders ageing processes and improves skin colouration. It also intensifies hair shade.
Elseve Beautifying Elixir contains linseed extract (Linum Usitatissimum Flower Extract) which protects hair from premature ageing and diminishes hair loss. It deals with high porosity hair (hair cuticles are extremely raised) as well. It will help dry, brittle and damaged hair. The presence of linseed flower oil in the product is very positive – the oil takes care of dyed hair and won't let its colour fade.
The above-mentioned lotus flower oil is also an ally in the fight for the beauty of coloured hair. It protects dry ends and adds hair volume as well as prevents hair from getting dull.
Elseve oil is enriched with a sunscreen; the content of oils guarantees intensive protection of dyed hair, fights off dryness and enhances the colour. Hair becomes nourished and restored. The cosmetic doesn't weigh hair down. It gives strands beautiful shine and a long-lasting effect of intense and deep colour.
The oil has a beautiful and oriental fragrance. It comes in a nice fancy bottle. Its capacity is larger in comparison with the products of other brands – it is 100 ml. The pump is big and reliable and makes the application and dosing easy.
The price isn't steep if we consider the capacity.
PURPOSE:
Beautifying Elseve Elixir is designed for dyed, tired and neglected hair. It provides hair with protection, regeneration and colour revival. It can be used for all hair types thanks to the power and diversity of beneficial oils. Women whose hair needs restoration and protection are going to like it.
DIRECTIONS:
The oil can be applied in three ways:
To damp and towel dried hair to enhance its performance.
To dry hair (preferably before washing) to smooth it, give it suppleness and lightness.
As a finishing touch for example to individual strands to deliver instant shine and tame them.
ADVANTAGES:
multitude of flower oils
doesn't weigh hair down
three ways of application
visible effects of colour protection and nourished hair
beautiful fragrance
DISADVANTAGES:
alcohol is high among the ingredients