L'Oreal Paris, Magical Oil Power, Nourish Elixir
Product Name:
Magical Oil Power, Nourish Elixir
Rating:
L'Oreal launches products which are abounding in nourishing and natural oils. In search of conditioners which don't scare away with the amount of alcohol, we should take a look at L'Oreal cosmetics. The ingredients of their products are rich in natural oils which are really well-suited. If we need to nourish hair and bring shine to our strands, we should try the oil – nourishing elixir for dry and damaged hair.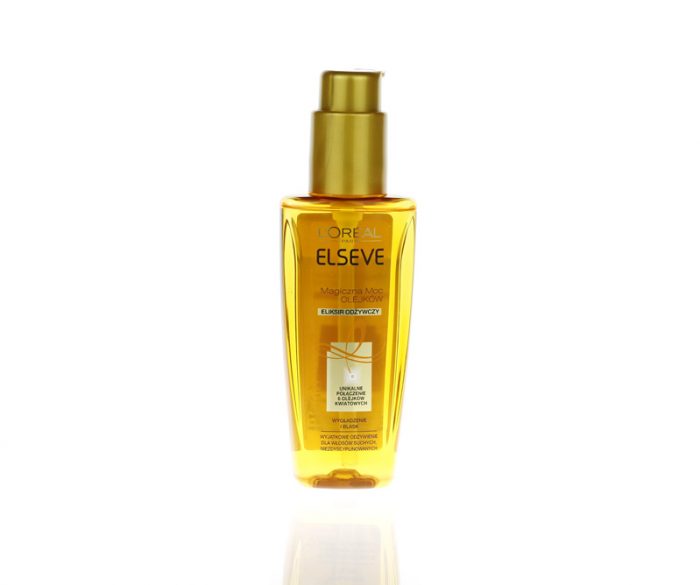 DESCRIPTION:
L'Oreal offers a lot of beneficial oils in all preparations. Both this product and the previous versions are abounding in such oils. Among the ingredients, there are as many as six flower oils and one coconut oil.
camomile oil (Chamomilla Recutita Extract / Matricaria Flower Extract) – brings shine and suppleness to strands.
coconut oil (Cocos Nucifera Oil) – provides hair with high dose of mineral ingredients, closes hair cuticles, therefore smooths and brings shine.
sunflower oil (Helianthus Annus Seed Oil/Sunflower Seed Oil) – restores shine in dull hair, smooths coarse hair fibres.
lotus flower oil (Nelumbium Speciosum Extract) – deeply nourishes and protects hair.
linseed oil (Linum Usitatissimum Flower Extract) – gives an intense regeneration and nutrition.
tahitian gardenia oil (Gardenia Tahtensis Flower Extract) – provides proper hydration in hair, prevents dryness and frizz.
rose oil (Rosa Canina Flower Extract) – brings suppleness to hair.
The oil will deal with dry and frizzy hair. It nourishes, protects and moisturises. Hair becomes beautiful, shiny and nice to the touch.
The elixir has a dense consistency characteristic for high quality hair oil. It spreads smoothly and the pump makes the application easier. The pump runs smoothly and the bottle is very handy.
The oil has a very nice fragrance. It contains harmless silicones which don't clog hair fibres but allow oils to penetrate deep into hair cuticles. Sadly, it contains alcohol. However, the amount of alcohol is lower than in majority of similar preparations – it won't damage or make hair dry.
This version of elixir has a gold and elegant pump.
100 ml holds out long. It is dense and very efficient.
PURPOSE:
The oil is to regenerate, nourish and protect dry, damaged and unruly strands. It provides hair with splendid smoothing and nice shine. It can be used as a specialized treatment. Women, who don't have large problems with hair, may feel free to use the product to give it daily protection and beautiful look.
DIRECTIONS:
You don't need much of the oil. 1-2 portions applied to hair are perfectly enough. It can be used in three ways:
Applied to damp, towel-dried hair – to give protection and make detangling easier.
Applied to dry hair to smooth strands and make them supple.
As a finishing touch to delight with shiny hair and define the strands.
ADVANTAGES:
numerous oils which are the main ingredients
doesn't weigh hair down
very efficient
beautiful fragrance
nice and handy bottle
effectiveness
easy application
DISADVANTAGES:
watch out for the alcohol among the ingredients; its amount is small but cannot be neglected