Macadamia NATURAL OIL, Healing Oil Treatment, Therapeutic Oil for All Hair Types
Product Name:
Healing Oil Treatment, Therapeutic Oil for All Hair Types
Rating:
The performance of Macadamia Natural Oil cosmetics depends mainly on the properties of natural oils. Macadamia Natural has been created in order to promote the oriental plentifulness of hair oils.
It is an eco-friendly series focused on hair care. None of the products has been tested on animals. Among masks and shampoos with macadamia oil, Macadamia Healing Oil is the most extraordinary and worth mentioning.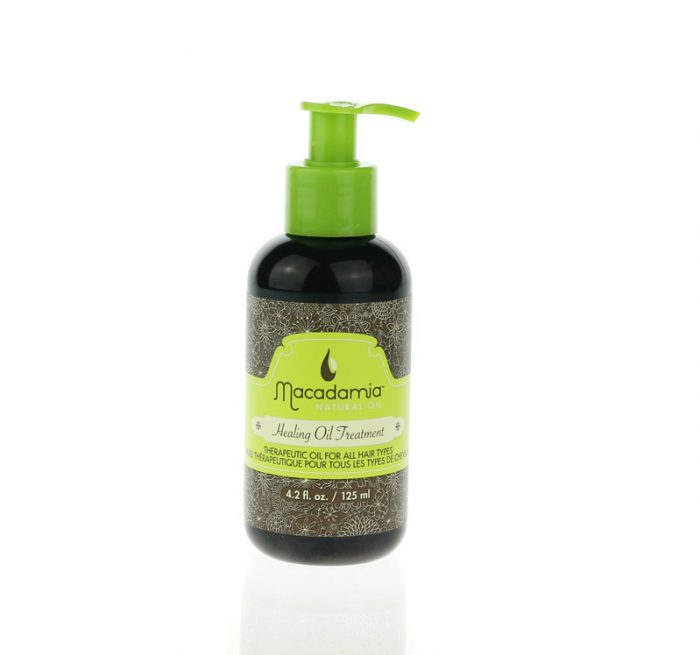 DESCRIPTION:
The products of the brand combine the properties of two oils which are very precious for hair: macadamia and argan. It is characteristic for the entire Macadamia series. Macadamia Healing Oil contains a lot of those. The company based the ingredients of the product on macadamia and argan oils. How do they work?
Macadamia oil (Macadamia Ternifolia Seed Oil) – includes a variety of good fatty acids thanks to which processes of recovery in hair run smoothly and effectively. They remove toxins from the hair. Strands become resilient, smooth as well as moisturised and shiny. The oil is a natural emollient – provides hair with proper hydration.
Argan oil (Argania Spinosa Kernel Oil), called "liquid gold" and appreciated by Moroccans for ages. It is irreplaceable as a product for the regeneration of skin, nails and hair. It contains vitamin E which prevents premature hair ageing. Argan oil is rich in nutrients thus will be perfect for restoration of hair structure. It will also protect hair from mechanical damage and heat. It contains natural sunscreen.
Macadamia NATURAL OIL, Healing Oil Treatment is suitable for every hair type. It is free from harmful substances, parabens, sulphate, SLS, SLES.

Moreover, it contains an organic antioxidant (Tocopheryl acetate) which slows down ageing processes caused by cigarette smoke and UV radiation. It works both inside and outside the hair. The oil improves skin hydration and stops water loss.
The oil is a therapy for hair – natural and safe therapy without harmful substances which clog the cells unnecessarily.
In comparison with other products, Macadamia Natural Oil has a large capacity. Numerous oils and extremely "hair-friendly" ingredients make it even more attractive.
The packaging does not look very spectacular but it is really nice. The pump is untypical but extremely handy – makes the application very comfortable and hygienic.
The oil is dense and very efficient. It has a nice oriental scent which resembles spices.
PURPOSE:
The oil is a treatment for all hair types. No matter if your hair is thick or thin, frizzy or oily, coloured or natural – Macadamia Natural Oil is going to provide it with proper care.
A high concentration of natural oils makes it a perfect hair treatment. Interestingly, the oil can be added to a hair dye to enhance the colour, protect hair and provide shine after the colourization.
DIRECTIONS:
Apply a few drops of Healing Oil Treatment to dry or damp hair. Gentle brushing the hair with a comb will help to spread the oil evenly.
The oil can also be applied to dry hair ends.
ADVANTAGES:
high concentration of natural oils
sunscreen
free from parabens, sulphate, SLS, SLES
cruelty-free
does not weigh hair down
efficient, large capacity
quick and long-lasting effect
very efficient and hygienic pump
DISADVANTAGES: