Matrix Biolage Exquisite Oil, nourishing oil for all hair types
Product Name:
Biolage Exquisite Oil
Rating:
Matrix is among the most popular brands which create hair care cosmetics.
The company comes from the USA. At the beginning Matrix cosmetics were delivered exclusively to hair and beauty salons. Presently, they are widely available and you can buy them at almost every drug store or online. Biolage Exquisite Oil stands out among other cosmetics.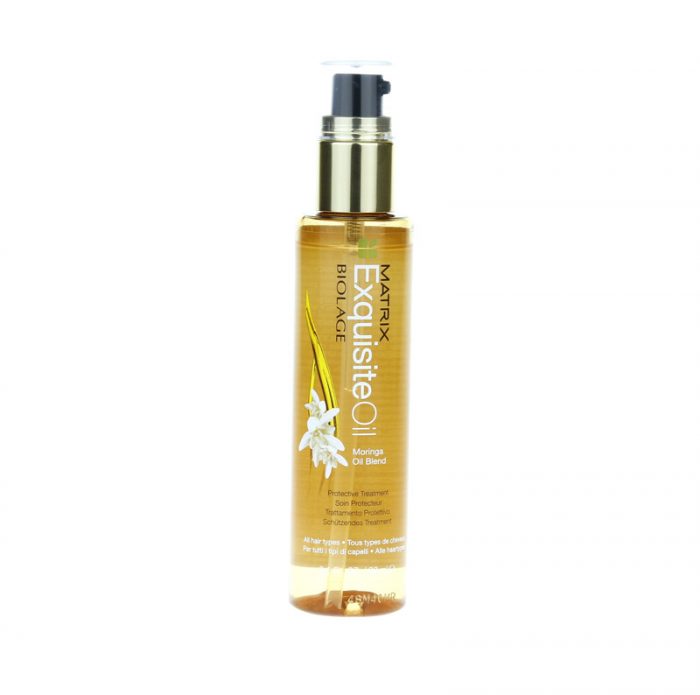 DESCRIPTION:
The serum is designed for all hair types. It is a professional high quality product which offers a variety of uses. The oil is even suitable for the scalp massage or an overnight hair treatment.
The oil provides a specialised treatment which smooths hair. It regenerates and guarantees immediate nourishing. Moringa oil (Moringa Oleifera) included in the serum is a highly valuable oil.
It is extracted from the tree known as "tree of life" or "miraculous tree". It is irreplaceable in the regeneration and purification of hair from the harmful toxins. It will bring the colour out of even extremely damaged, dull and bleached hair. It contains lots of saturated fatty acids (palmitic, stearic, behenic, arachidic, lignoceric) and unsaturated fatty acids (palmitooleic, eicozenic, linoleic).
Therefore, it is suitable for all hair types, regardless of porosity.
Tocopherols included in the oil are responsible for the regeneration and improvement of hair condition. The oil acts inside the hair where it provides restoration as well as on hair surface where it conditions and adds shine. It smooths hair and makes hairstyling easier.
Apart from the above-mentioned oil, the serum contains two more natural and valuable oils:
Macadamia (Macadamia Ternifolia Seed Oil) – quickly absorbed, doesn't make hair oily or weighed down. It contains a precious oleopalmitic acid which belongs to the group of omega-7 acids. It is an ingredient of the sebum produced by our body and scalp. The lack of this ingredient disturbs functioning of the skin.
Argan (Argania Spinosa Kernel Oil) – regenerates hair which has come through lots of styling treatments. It rebuilds and protects hair which we often treat brutally: energetic brushing, towel-drying, pulling.
Matrix Biolage Exquisite Oil contains quite a lot of alcohol. Luckily, there is much higher amount of natural oils.
The packaging contains 92 ml of the product. The elixir comes in a narrow and oval bottle. The plastic which the bottle was made of is very soft. The application is easy because of the pump which guarantees precise dosing of the product.
PURPOSE:
Matrix Biolage Exquisite Oil offers a wide variety of uses – a bit different than traditional drug store cosmetics based on oils. Therefore, it can be adapted to the individual needs of your hair, considering its condition. It is among the few oils which are suitable for the whole night treatment (oiling). Thanks to the diversity of unsaturated fatty acids, it is designed for all hair types and degrees of porosity. It can be also used for the massage of the scalp to strengthen hair bulbs and enhance micro-circulation.
DIRECTIONS:
Matrix Biolage Exquisite Oil can be applied in several ways:
As a massage oil for the scalp (before or after washing hair).
As an overnight mask – greatly regenerates when applied to the hair ends or from the medium length of hair. Wash the oil away in the morning with a shampoo.
Before styling to tame strands and add shine.
During the day – whenever hair needs shine and nourishing.
Added to a mask or conditioner, it enhances its performance. 1-2 portions of the oil are enough.
10-15 minute mask before washing hair.
After washing hair – apply a small amount of the oil to damp and towel-dried hair.
ADVANTAGES:
large amount of oils which are rich in nutritional ingredients
versatility of uses
efficient
lightweight formula, doesn't weigh hair down
pleasant sweet scent
DISADVANTAGES:
watch out for the alcohol among the ingredients