Mythic Oil, L'Oreal Professionnel, Nourishing Oil
Product Name:
Mythic Oil
Rating:
L'Oreal Mythic Oil for All Hair Types claims our attention. The brand is known for high quality products which are aimed at every woman, regardless of skin colour, place of residence or affluence.
L'Oreal has fallen in love with natural conditioning oils thus decided to enrich its offer with special, prestigious and elegant series – created to pay tribute to the mythical power of oils.
L'Oreal Professional, which includes Mythic Oil, is popular among hairstylists and sets new trends in hair care and styling.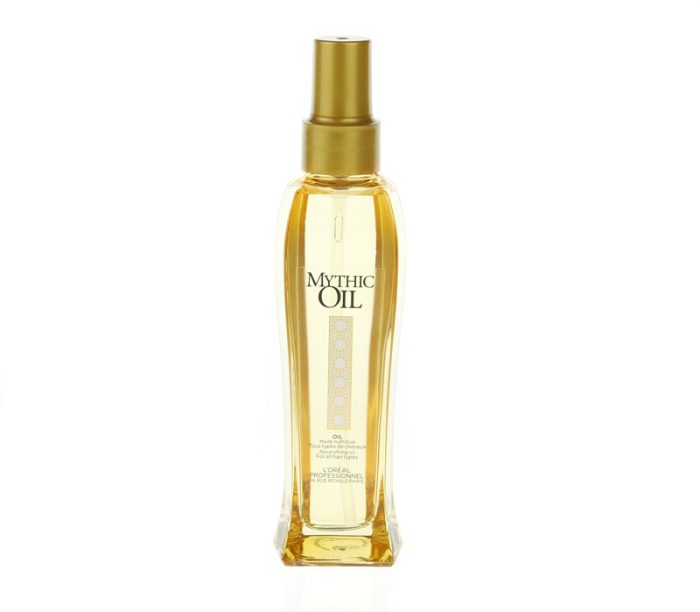 DESCRIPTION:
The oil is meant to nourish all hair types. It provides hair with essential ingredients as well as makes it look healthy and beautiful thanks to two well-chosen conditioning oils.

Avocado oil (Persea Gratissima Oil) – rich in unsaturated fatty acids which enhance processes inside the hair and provide proper level of hydration. Phospholipids, included in the oil, will help to rebuild damaged hair whereas phytosterols penetrate deep into hair structure where they make sure that no harmful substances can get inside the hair. They let in only healthful substances and push away the harmful ones. Avocado oil contains natural sunscreen which protects from the damaging effects of UV radiation. It splendidly improves the condition of driest and most frizzy hair. Moreover, it contains as many as seven vitamins: A, B, D, E, H, K, PP – they contribute to the proper hair growth, nourish and strengthen the hair. It makes strands excellently shiny.
Grape seed oil (Vitis Vinifera Seed Oil) – contains a high concentration of fatty acids, mainly linoleic acid which speeds up hair recovery. The oil prevents brittle hair; it offers a diversity of vitamins A, E, K, D and an array of minerals which nourish hair.
The amount of the two oils included in Mythic Oil is astonishingly high thus your hair is provided with splendid care. Nourishing Oil greatly tames strands, provides it with protection, regeneration and proper hydration. It is lightweight, therefore makes the application easier. It also delights with its fragrance – using the serum starts to resemble a mystic ritual. The bottle is glass and fancy and is similar to a bottle of oriental perfume. 100 ml of an oriental product holds out long because only small amount is used to nourish and present your hair with natural shine. It it quite runny as well.
Surely, everyone will be happy with the fact that the oil has a very low amount of alcohol whereas its main ingredients are natural oils and harmless silicones.
It is easily and evenly applied to hair thanks to a pump which runs smoothly.
PURPOSE:
The oil is created for all hair types. It can be used in form of prevention for healthy hair or intensive repair of damaged and unruly strands. It will also help dull hair quickly and effectively by giving it shine.
DIRECTIONS:
Depending on the condition of hair, 1-2 portions of the cosmetic are recommended. It should be applied to dry or damp hair prior to styling.
ADVANTAGES:
large amount of high quality oils
efficient
light formula, doesn't weigh hair down
high absorption
immediate effect of healthy and shiny hair
beautiful and exclusive packaging
sensual oriental scent
DISADVANTAGES:
The information about ingredients and application is provided on the carton box. If we get rid of the box while unpacking the oil, we will have to go through online websites to learn how to use it properly.