Pantene Pro-V Nature Fusion
Product Name:
Nature Fusion
Rating:
Pantene PRO- V rebuilding oil with keratin turned out to be a disappointment. It did not contain any natural, valuable oils. Will it be the same in the case of Pantene Pro-V Nature Fusion with argan oil?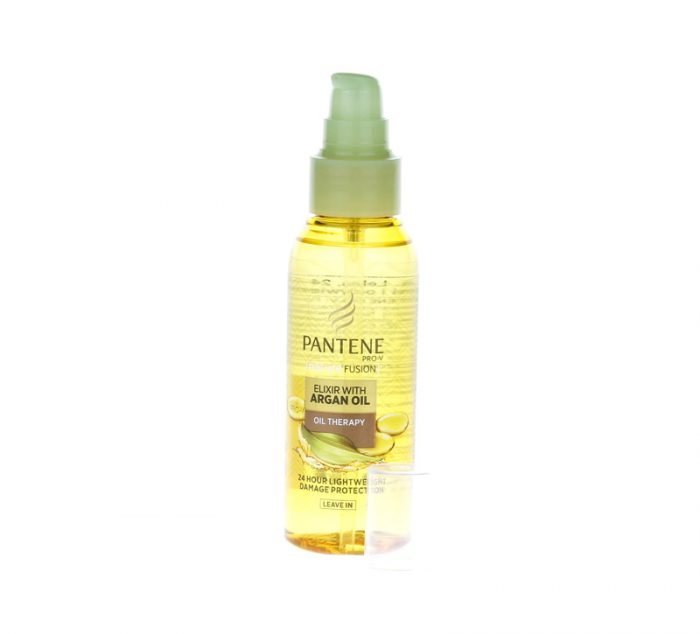 DESCRIPTION:
The oil was created to intensively regenerate damaged and dry hair. Argan oil contained in the product is designed to rebuild and strengthen the hair fibre. It would certainly work better than it did, if its amount in the preparation was not so low. Components such as silicones and alcohol, unfortunately, appear in larger amounts.
The product will improve the hydration of hair and create a protective film on the surface, that will protects it against mechanical damage. Consequently, your hair gains lustre. When it comes to opinions which you can find online, many bloggers are rather sceptical and not really thrilled with the product.
'Ok', 'if there wasn't so much alcohol', 'neutral' – are only a few of the most common comments on the product.
It is a fact that the ingredients contained in the product actually improve the appearance of hair. After using Nature Fusion, we get the impression of shiny curls that are tamed and easier to style. However, the oil is not suitable as a regenerating treatment. It is a product that helps tame frizzy hair. Argan oil (Argania Spinosa Kernel Oil) forms a protective layer and firms the hair fibres. Therefore, we can be confident about the hair condition during styling, brushing and drying.
Pantene Pro-V Nature Fusion combines the benefits of nature contained in the oil with the cosmetic technology developed in the laboratories of the company.
The product comes in a high, slim, plastic bottle with a pump. It is very easily to apply because it has an oily but runny consistency and is easy to spread on the hair. Unfortunately, you are able to feel the large amount of alcohol.

The cosmetics has a capacity of 100 ml and used only for styling will be enough for a very long time. The pump runs smoothly and allows to use preparation to the very end. The bottle is very handy, because it is slim.
PURPOSE:
Pantene Pro-V is designed for all hair types. Its main task is to nourish and protect hair from damage caused by styling (brushing and de – tangling of the hair) and heat (hot air from the blow-dryer, hot straightener). It is not recommended as an argan oil treatment, but perfectly tames and adds shine to the hair.
DIRECTIONS:
Before using the product, shake the bottle well. Pantene Pro-V applied on damp and towel dried hair, starting from the middle of its length and heading downwards.
ADVANTAGES:
light formula, does not weight the hair down
efficient pump
handy packaging
a high content of argan oil
DISADVANTAGES:
a large amount of alcohol and silicones