Schwarzkopf Essence Ultime Crystal Shine
Product Name:
Essence Ultime Crystal Shine
Rating:
A product signed by the well-known, famous top model of the 90's – Claudia Schiffer. The oil (in fact, a conditioner, because the amount of oil in the composition is very low) is designed for dull and normal hair. Due to the fact that such famous person became the ambassador of the Essence Ultime line and participated in its creation, we expect spectacular effects after the usage. Is it so?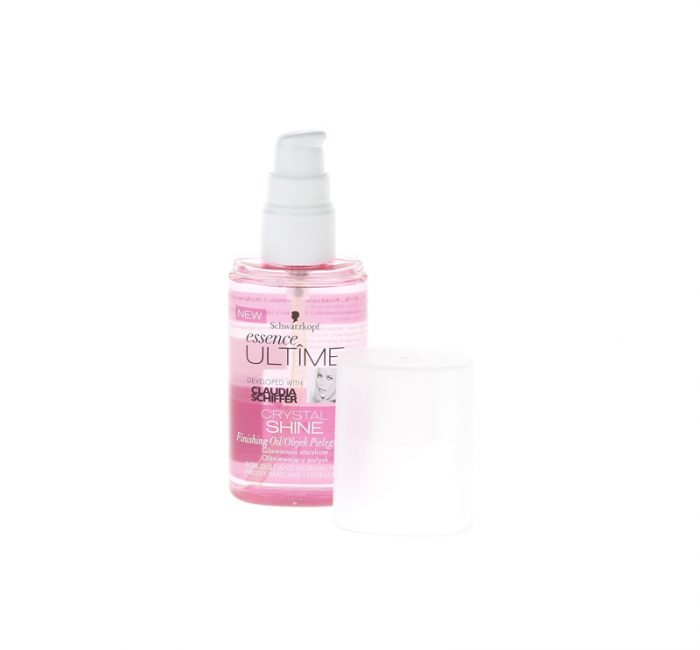 DESCRIPTION:
Schwarzkopf Essence Ultime Crystal Shine oil really works. Immediately gives radiance to the hair and tames it. It is suitable before the big event, or when our hair does not look too favourably, and we must immediately go out and require it to look flawless.
It is more about the word "oil" in the name. Does the conditioner really work as a hair oil? The product consists of only one oil – apricot (Prunus Armeniaca Kernel Oil), which disappears among a whole range of other hair care substances. It should lean more towards the term "conditioner enriched with oil." Does not detract from the natural effect wish is promised by the manufacturer, as Schwarzkopf Essence Ultime Crystal Shine does the job: immediate brilliance of hair is guaranteed. As for the care, it is not as intense as other products in this range. At the same time, we can be sure that the oil will provide our hair with a subtle protection due to the selection of "friendly silicones", which smooths and slightly regenerate the hair. They support the effects of the apricot kernel oil, which nourishes and provides hair with the optimal dose of EFA (unsaturated fatty acids). The conditioner actually has the consistency of an oil, but does not leave a greasy, sticky film on the surface.
Half of the product is absorbed into the hair, while other components work on the surface and ensure a beautiful shine.
The packaging is equipped with a pump that works efficiently and allows to apply the appropriate amount of cosmetic and at the same time protects against spilling, and consequently, our hands from a total mess. Among many female consumers, the scent of the preparation sometimes rises objections: a bit bland and sugary, and at the same time reminds of special lotions from hairdressing salons. Although, Ultime Crystal Shine is of a small capacity (75 ml), it is still very efficient.
PURPOSE:
Schwarzkopf Essence Ultime Crystal Shine was created for women, who face chronically dull, unruly hair or for those who want to achieve an exceptional brilliance before an important day.
DIRECTIONS:
The label of the product does not provide any detailed information about it. The manufacturer only claims that the conditioner can be used in three ways: (before washing, after washing and as finishing haircuts). It is not specified how long to keep the conditioner on before we washing it with a shampoo. Therefore, suggests to adjust the time to the state and condition of your hair.
ADVANTAGES:
contains silicones taking care of your hair
do not overload or stick the hair
immediate effect of shiny hair
slightly tames hair
includes a protective filter
ensure optimal protection of the hair
DISADVANTAGES:
only one oil used in the product which slightly disqualifies it in comparison to other products of the same range
not everyone is fond of the sweet scent of the product