Schwarzkopf Gliss Kur Hair Repair, Thermo-protect
Product Name:
Gliss Kur Hair Repair, Thermo-protect
Rating:
Schwartzkopf company understands the demand of diversity in the cosmetic field. Therefore, it attempts to create products that meet the needs of all women. Caring for hair damaged by heat, the company released a thermal protection – dry oil spray.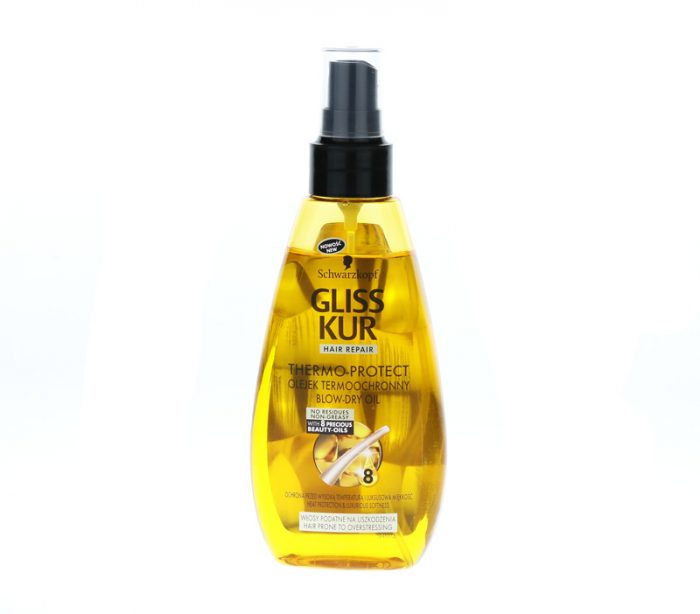 DESCRIPTION:
Dry Oil from Gliss Kur immediately penetrates inside the hair without leaving any traces on the surface – no weighing down, no greasy film. It was created for all those who constantly expose their hair to high temperatures. It will be loved by women often blow-drying with hot air and exposing it to the sun.
Gliss Kur Hair Repair Thermo Protect is composed of a high content of up to seven seed oils extracts and one typical floral – rose oil.
What kind of oils can you encounter? How do they work on your hair?
Oil sunflower (Helianthus Annus Seed Oil / Sunflower Seed Oil) eliminates dry hair and prevent from frizz. Moreover, it works anti-statically, restores softness and smoothness.
Argan oil (Argania Spinosa Kernel Oil) is ideal for the care of hair that is damaged by styling and various treatments. Provides very good protection against heat. Additionally, smooths and moisturises.
Oil, safflower (Carthamus tinctorius) is rich in up to six unsaturated fatty acids. Provides strong rejuvenating effects, slows down the ageing process of the hair, improves the functioning of processes within cells of hair.
Macadamia oil (Macadamia ternifolia Seed Oil) is very well absorbed and does not leave an oily film. Immediately disappears from the surface of the hair, nourishing it from the inside. Moreover, it moisturises and strengthens coarse, dry hair without gloss.
Olive oil(Olea Europaea Fruit Oil) improves the resilience of hair. It contains a diversity of vitamins A, E, D, K, prevents the formation of free radicals. It slows down the ageing process.
Apricot Kernel Oil (Prunus Armeniaca Kernel Oil) – suitable for every kind of hair, provides softness and elasticity of the hair. The oil will help to improve the resistance to breakage and damage. In addition, it prevents the ends of the hair from splitting and protects against adverse weather conditions.
Sweet Almond Oil (Prunus Amygdalus Dulcis Oil) is a light and delicate protective preparation, very well absorbed by the hair. It contains a lot of vitamins A and E, which help your hair retain youth and elasticity.
Gliss Kur Hair Repair Thermo Protect is the perfect supplement for specialised treatment of natural oils. However, as an independent treatment can be too weak. It will surely handle styling, conditioning and adding shine to the hair, but will not provide it with a total treatment. For regeneration and restoration of hair it is better to use rich oils.
The capacity of the product is up to 150 ml. The product is highly efficient, because it is used only on wet hair after washing. It has a pleasant smell, similar to the scent of exotic oils and incense sticks.
Unfortunately, the pump does not spray the preparation lightly and in consequence, the application is uneven. Sometimes, it causes large drops on the surface, that need to be rubbed in the hair.
PURPOSE:
The product is designed for all those who, apart from the special treatment with oily lubricants, need additional strengthening of the hair. It will protect the hair of women, who expose their hair to hot air.
DIRECTIONS:
Spray from an appropriate distance on damp, towel-dried hair.
ADVANTAGES:
a large amount of oils
efficient
nice scent
easy application
immediately absorbed
does not weigh hair down
DISADVANTAGES:
not enough as an independent, regenerating treatment, but it will be a great supplement
the atomizer does not spray perfectly