Timotei, Precious Oils, beauty mist
Product Name:
Precious Oils
Rating:
Timotei company loves referring to nature when creating their products. These cosmetics are of a lightweight formula and delicate consistency. Similar properties can be found in the rejuvenating hair mist with argan, almond oil and jasmine.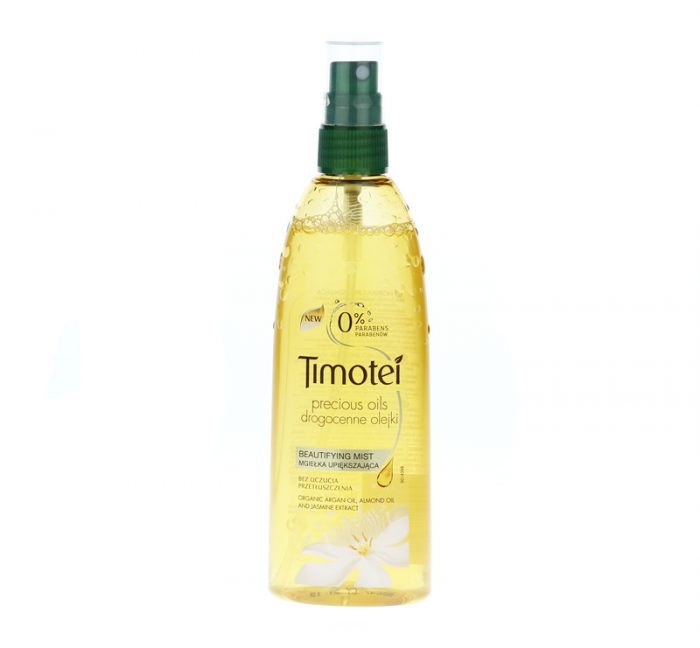 DESCRIPTION:
Timotei rejuvenating mist contains three oils:
Argan Oil (Argania Spinosa Kernel Oil), which is perfect for damaged hair, protects it also against invasive mechanical treatments, (intensive brushing, drying, stretching, straightening). Additionally, it gives shine, and moisturises.
Almond (Prunus Amygdalus Dulcis Oil) – is rich in so-called youth vitamins A and E, which improve the flexibility and adequate moisture level.
Jasmine Oil (Oleum Jasmini) – is often used in conditioners which are designed to enhance the brilliance and colour of your hair. Intensely strengthens and gives softness.
The effects of the above-mentioned oils are improved with a protective coconut oil (Cocos Nucifera Oil). Timotei Precious Oils do not contain any harmful parabens.
It is very light, water-based conditioner, which is ideal for hair that is not very fond of greasy and heavy components.
The lack of harmful parabens is a very good news for everyone. However, a very bad news is that the amount of alcohol and glycerine in the composition is unfortunately, larger than the oils.

Timotei Precious Oils comes in a nice, handy bottle with an atomizer. However, quite large capacity does not guarantee that the product will last longer. It all depends on individual preferences and the methods of use. Keep in mind that it can be used even several times a day. The mist is really ultra-light and easily absorbed. It will not weigh your hair down or make it greasy.
Unfortunately, the atomizer fails. It splashes the product rather than it sprays it. Therefore, a good solution would be to simply pour the mist into a bottle with a precise sprayer.
PURPOSE:
The mist is not recommended as a treatment, more as a daily protection and an antidote facilitating the styling of unruly and tangled hair. Additionally, it will be a good companion on the beach. Used during the day will provide protection from the harmful sun radiation. The manufacturer does not precisely define the type of hair it is recommended for, but its light formula allows you to assign it to all hair types.
DIRECTIONS:
Timotei mist can be used on wet hair after a bath, to protect it from high temperatures as well as dry hair several times a day. The conditioner tames hair, give it shine and protect from the burning sun.
ADVANTAGES:
contains four hair oils
ultra lightweight, does not weight the hair down
large capacity
a pleasant scent, which is not heavy or cloying
does not contain parabens
handy bottle
DISADVANTAGES:
a lot of alcohol and glycerine
d isruptive atomizer